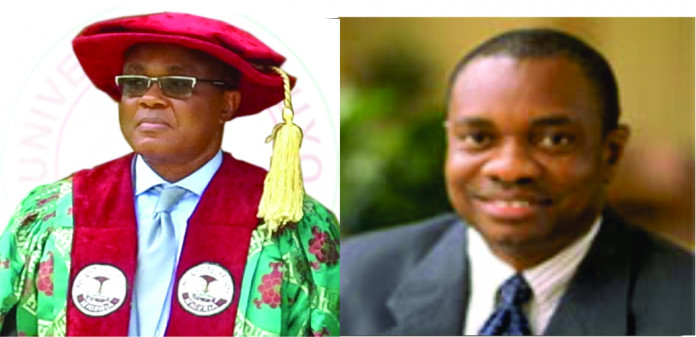 The Vice-Chancellor of the University of Uyo, Professor Enefiok Essien and the Executive Director, Human Resources of the American Oil and Gas giant, Exxon – Mobil, Mr. Udom Inoyo, were among the recipients of the Pillar of Environment Award by the Nigerian Environmental Society, Akwa Ibom State Chapter.
According to a Professor of Environmental Microbiology and Chairman of the Akwa Ibom State Chapter of the Nigerian Environmental Society (NES), Professor Comfort Etok, the Pillar of Environment Award is conferred on personalities who have contributed immensely to the development of the environment.
The conferment was one of the prime events at the grand finale of the 2017 World Environment Day hosted by the University of Uyo, June 05, 2017; in collaboration with a Non-Governmental Organization (NGO) – Comforters and Home Safety Initiative.
Prof. Comfort Etok opined that the criteria for the selection of Essien and Inoyo were strictly on merit.
Professor Enefiok Essien, the fifth substantive Vice – Chancellor of the University of Uyo was considered in the light of his environmental friendliness and disposition to environmental programmes.
In the same vein, Mr. Udom Inoyo award was traced to his untiring efforts at sustainable environmental friendly policies and programmes of his multinational employer, Exxon-Mobil geared at human capacity cum empowerment initiatives like the construction of the INOYO HAVEN to house several staff of the Oil Gas firm in Lagos.
He is also an ardent supporter of INOYO TORO Foundation; a Non-Governmental Organization committed to the motivation, restoration of the integrity and pride of teachers as a catalyst for raising of better students and future leaders of the country, through the institution of annual awards to teachers in public secondary schools in Akwa Ibom State.
One of the robust environmental awareness campaigns of the Nigerian Environmental Society (NES) that has impacted positively on the University of Uyo community is the tree planting exercise flagged off by the Vice – Chancellor.
Apart from mitigating the effects of climate change, the trees will serve as wind breakers to cushion the effects of windstorm at the main campus.
Other activities were sanitary inspection of some public places in the state and donation of cleaning materials to faculties in the University of Uyo.
The grand finale of the programmes which was graced by the Executive Governor of Akwa Ibom State, Mr. Udom Emmanuel, represented by the Deputy Governor, Mr. Moses Ekpo.
It featured the presentation of awards and prizes to the winners of Essay, Quiz, Art Exhibition and Beauty pageantry among primary and secondary schools in the three Senatorial Districts of Akwa Ibom State.