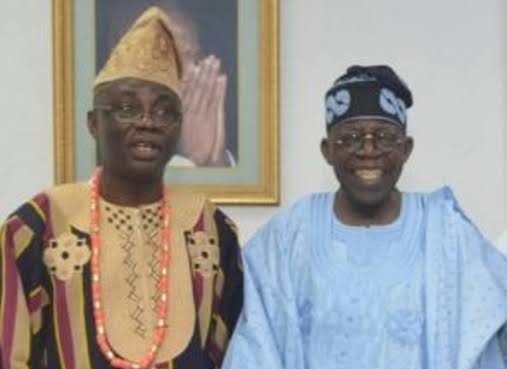 By an unwritten agreement, it is almost certain that the Southern part of the country may present the next presidential candidate for the 2023 general elections in Nigeria.
Really, the game should be between the South-East and the South-West geo-political zones, the South-South having had its turn between 2010 and 2015.
In the South-West, there are many potential candidates, nay hopefuls, for the nation's presidency come 2023. Of the many that I know, two persons stand out.
One is a 'man of God' who has already seen and described himself as the 16th Nigerian president after the incumbent, Muhammadu Buhari. In his church, the Citadel Global Community Church, formerly known as the Latter Rain Assembly where he is the Serving Overseer, Pastor Tunde Bakare is a well known pastor who bestrides Nigeria's political cum religious space like a colossus.
A pastor and dedicated preacher from the kogba gira- gira, ko gba gbere ( no nonsense, no hassle) hue, whose personal integrity is beyond doubt, Bakare is a phenomenon on the pulpit as well as in politics.
On several occasions, he has intervened in the nation's politics in times of national crises just as he has saved many souls like the biblical good shepherd.
His love for our dear country is so deep and perhaps unmatchable by any other patriot of his generation. For many years he has combined his pastoral work with mouthing political rhetoric, sometimes making state-of-the-nation broadcasts
in January and October of every year like the president he is dreaming to be! It is to his credit that virtually all his broadcasts generate controversy from all sides of the political spectrum and across socio-economic and religious divides.
A lawyer by training, he encodes his messages with pedagogic brilliance and intellectual candour while wrapping it up with biblical quotations and narratives that add divine flavour to them.
His most latest broadcast which took place in January this year, as usual became a flaming controversy. He had identified different enemies of Nigeria in and outside government and like a statesman, looked beyond the Nigeria of today and asked President Buhari to "build a strong post-Buhari legacy facilitated by accurate succession."
President Buhari, he had emphasised, must "institutionalise systems of accurate succession that will build and sustain the Nigeria we desire." To an average discerning Nigerian, Pastor Bakare was not asking for too much. His categorisation of the nation's enemies, to me, is neither new nor strange. Most of us know the nation's enemies including ourselves but the problem has been: who will bell the cat?
Erudite as he is, can the debonair pastor bell the Nigerian cat? Can he tackle the country's hydra-headed problems in spite of his religious identity? Granted that he, being perceived as not corrupt and perhaps incorruptible, can he truly tame the corrupt in Nigeria?
Really, does he have electoral value, a political machinery/template or economic direction; is he a member of the ruling party, All Progressives Congress, APC or a mere admirer; or has he been tried and tested in government, as a politician, a civil servant, etc?
If he sees himself as the next president after Buhari, is it by the ballot box? Indeed, how many Nigerians agree with him or share his dream? How many even believe him, in the first instance? What political effect did he have in the South West in particular and the nation in general when he teamed up with Buhari as running mate in 2011 under the umbrella of CPC? Questions, questions, questions that beg for quick answers!
And this is where the second South West hopeful comes in. Bola Ahmed Tinubu is no doubt a well known politician in this region. As a politician, he has not only served his people, winning many political trophies to the bargain, he is perhaps next to the late sage, Chief Obafemi Awolowo in terms of acceptance and controversy. He is a frontline member and a leader of the ruling APC.
Like Awo, he is liked and hated with almost equal passion but his political sagacity, ability to cultivate friends even in enemy camps; his tolerance of friends of opposing political and economic ideals and his readiness to reward those loyal to him with political power and state wealth have endeared him to many people.
READ ALSO: 2023 PRESIDENCY: DECIDING FACTOR
It is a fact that he is no doubt instrumental to the ongoing political handshake between the larger North and South West in particular. He sacrificed his vice presidential ambition and anointed one of his political aides instead, who himself has been a worthy ambassador of his political leader and region.
Tinubu's brand of politics appears to be live-and-let-others-live, a brand that apparently appeals to many Nigerians. It has catapulted him from the IBB's new breed political class of yore to the godfather class of today.
For some years, both Bakare and Tinubu were in the same political and human rights' tent like brother seeds in their own compartments but sharing the same political pod – an ideal I may call democratic socialism/humanism. Indeed, both can be said to have fought -and are still fighting to alleviate the plight of the generality of Nigerians.
The history of June 12 struggle and the intermittent battles to shove the military out of politics would not be wholly written without mentioning this controversial duo.
But nowadays, it appears things are falling apart between them. There appears to be some rivalry between them. When one is firing from all cylinders confronting albeit occasionally, the powers-that-be, the other is threading with caution, bidding his time while at the same time buying time for the powers that be! In plain language, while Bakare though a friend of those in power radicalizes political discussions, demanding explanations on issues that appear misty, Tinubu on the other hand, like a king-maker who will not rock the boat against the king he helped to make, would call for patience, understanding and more time!
For instance, in response to Bakare's timely call on Buhari to institutionalise systems of accurate succession, so that the "enemies" of Nigeria might not succeed him in 2023, Tinubu explained this away as too early a call.
"Every lover of this country will not talk about the succession plan yet, that's the truth", he said and advised rather, that Nigerians should "concentrate on working for the country, help the country, help the president to help the country. ….We cannot 365 times in a year work on politics."
Embedded in his reaction is that every lover of the country should try to tackle the present situation now and leave the future preferably to politicians to sort out! Thus to him, the Bakare strategy is too soon and probably far-fetched! Politicians like playing the waiting game!
It is quite clear to the discerning that while Bakare was playing the statesman, Tinubu was playing the politician, whom he truly is! The politicians, because they are most times opportunistic, at least in this part of the world, limit themselves to tackling the challenges of the present believing that doing this will take care of the future which unfortunately they have little or no idea of.
But statesmen that seek to exclude the "enemies of state" in statecraft, are, apart from calling for a level playing field for all to participate, may early enough help induce the eventual birth of a vision-driven leadership at all levels, which the Nigeria of our dream aptly desires.
What the saga of Bakare and Tinubu teaches us is that Nigerians may have to choose between considering the suitability and thoughts of an apparently less politically experienced statesman on one hand; and those of a widely experienced politician with controversial statesmanship on the other hand as we prepare for 2023.
Although the choice appears clear, the scenario may be such that our statesman hopeful while appearing to wear the garment of purity, particularly coming from the religious pulpit, appears to lack fitting political shoes, and strong experienced wings to fly! our politician hopeful, on the other hand, though well tested and astute, seems to lack some grains of statesmanship and may be seen as an ugly toad in terms of integrity being a notable member of our political class perceived rightly or wrongly as morally bankrupt.
Yet his experience so far in successfully swimming the murky political waters, may eventually stand him in good stead to clinch the precious crown!
One thing is clear though, both hopefuls and their tendencies have commanding presence in the South West, a geopolitical zone sophisticated enough not to be led by the nose by any person or group!
Whether we like it or not, a choice must be made between the two tendencies or phenomena between now and 2023 and the choice must be acceptable to other zones. The clock is ticking fast and the game must start now!
Mr. Onabanjo, former Editorial Director in Tell magazine, is a journalist based in Lagos.