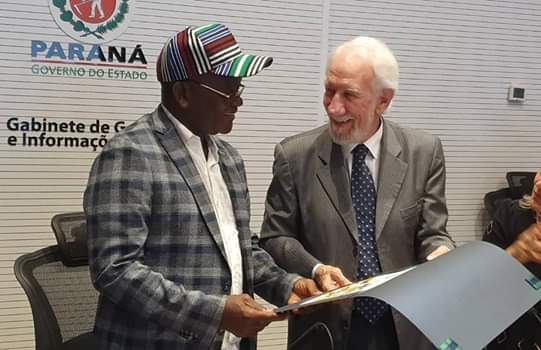 Benue and the Brazilian state of Paraná have agreed to collaborate in various aspects of the economy for the benefit of people of the two states.
This was the outcome of a meeting between Gov. Samuel Ortom and the Vice Governor of Paraná, Mr. Darci Piana, on Thursday at Government House, Curitiba, Brazil.
Speaking on behalf of Paraná Governor, Roberto Massa Júnior who was not in the state at the time of Governor Ortom's visit, Mr. Piana expressed the readiness of his state to collaborate with Benue through exchange programmes in technology, vocational training, agriculture among others.
He said Paraná is the fourth biggest economy of Brazil which has the potential for a robust relationship with any willing state, local or foreign.
READ ALSO: Rivers Govt. Unveils Real Madrid FC Football Academy
He thanked Gov. Ortom for the visit and assured members of the Benue delegation that their efforts would not be in vain.
Speaking earlier, Ortom had intimated his hosts of the numerous benefits of doing business in Benue State.
He highlighted the attributes and advantages of Benue such as arable and rich land, an active and hardworking population, business-friendly environment and a host of other investment opportunities which abound in the state.
Gov. Ortom said it was a pleasant coincidence that Benue is the Food Basket of Nigeria while Paraná is the Food Basket of Brazil.
He thanked Paraná State Government for the warm reception, stating that the partnership between the two states would produce great results for their people.
The meeting later went into a technical session between the Benue and Paraná State teams where terms of the bilateral relations were discussed and agreed.