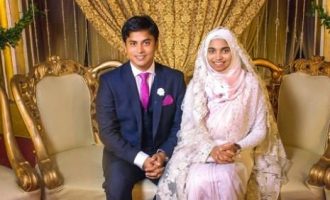 A Bangladeshi bride who posted a picture of herself on social media wearing her grandmother's cotton sari with no make-up or jewellery has sparked a heated debate about the high expense of weddings in the impoverished country.
Tasnim Jara, who runs a charity providing medical care for the poor, said she wanted to challenge the widely held view that a bride must be dripping in gold on her wedding day.
"Personally, I feel that we need to change this mindset," she wrote in a Facebook post that has been liked by more than 91,000 people and shared nearly 24,000 times by Friday.
"A girl should not need a whitening lotion, a gold necklace or an expensive saree to be accepted as a bride or to make her feel confident."
Jara said she had faced opposition over her choice, including from relatives, some of whom refused to have their picture taken with her.
"I was troubled by the singular image of a bride that our society has with tons of make-up, a weighty dress and mounds of jewellery weighing her down."
"Don't be fooled, this lavish image of a bride does not represent the financial well-being or agency of a woman in the family."
The post sparked a debate in the Muslim majority nation, where families spend huge amounts on weddings, often landing themselves in debt for years.
One reader said Jara had< "no right to criticise" others who wanted to spend money on make-up and jewellery.
But the vast majority of the 1,400 comments the Facebook post prompted were supportive.
"Thats an awesome step… I too hate that culture," read one.