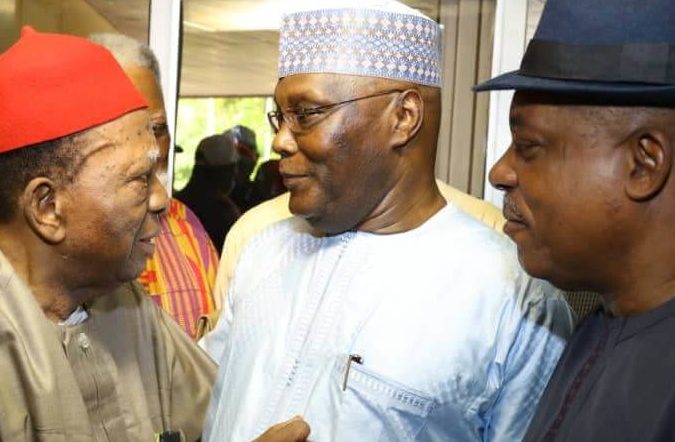 Relations of Nigeria's first President, late Nnamdi Azikiwe, have described the endorsement of the Peoples Democratic Party, PDP, Presidential Candidate in the coming election, Atiku Ababakar, by Ohanaeze Ndigbo as a "ridiculous act against the sage."
The kinsmen therefore insisted that Ohanaeze must apologise to them.
Recall that the group had on January 24, announced its adoption of Atiku, after a meeting of the Ime Obi Ohanaeze, the highest decision making organ of the group in Enugu.
In a communiqué announcing their choice of Atiku, whose running mate is a former governor of Anambra State, Peter Obi, the group said they critically and dispassionately appraised issues, analysed manifestos of the various parties, especially on the issue of restructuring and the continued relevance of the south east geopolitical zone in the country before coming to the conclusion that Atiku was the best choice.
However, spokesperson for the late Azikiwe's kinsmen, Melville Ebo, who addressed a press conference in Onitsha, Anambra State, on Monday, accused the President-General of the group, Nnia Nwodo, of using the opportunity to settle an old score with President Muhammadu Buhari who he alleged chose the late Dr Chuba Okadigbo as his running mate in 2003 instead of him.
READ ALSO: Nigerians in U.S. call for peaceful, credible elections
He further described members of Ohanaeze who met and endorsed Atiku as members of the PDP.
Ebo said, "We also want them to tender an unreserved apology to Governor Willie Obiano for the attack on him on this issue because an attack on the governor is an attack on us and the people of this state.
"Ohaneze cannot railroad Ndigbo the way it did in 2015.
"We can't understand how those who call themselves friends of Igbo should refuse to accord the great Zik a peaceful rest by trying to 'rubbish' the day set aside by the Federal Government to honour him."
"For this singular act, the people of Onitsha will never be happy with this group (Ohanaeze) until they tender an apology to us and the Anambra State Governor on this issue."