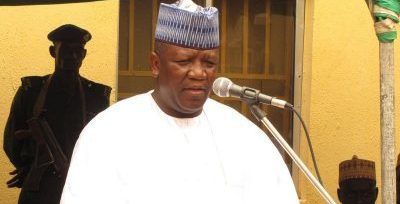 Gov. Abdul'aziz of Zamfara, has called on his supporters to join him in a peaceful protest on Saturday over the decision of the national leadership of the All Progressives Congress (APC) to cancel the party's governorship primaries.
The primaries which held on Wednesday was cancelled by the party leadership and a fresh one scheduled for Saturday, October 6.
Speaking at a press conference in Gusau on Friday, Gov. Abdul'aziz said: "I am calling on all our members to come out and storm the state Police Headquarters tomorrow (Saturday) by 10 am for peaceful protest.
"We will continue with this decision until the national leadership of our party do what is right on this matter."
Chairman of the election panel, for the state, Abu Fari, had said the cancellation was due to harassment and intimidation of voters and snatching of election materials by thugs sponsored by politicians, a claim which the governor dismissed as false and warned its members not to step into Zamfara again.
He said: "Our issue is with the National Secretariat of APC where Adams Oshiomhole continue to be a dictator to party members, he acts as a mini god.
"You know, there is ongoing issue regarding the APC governorship primaries in the state, where the national headquarters sent a committee to conduct the election.
"It was very unfortunate that the committee canceled the election on Wednesday.
"We heard that the National Working Committee had dissolved the APC executive in the state and also send the same committee to Zamfara to repeat the exercise.
"I want to call on the national headquarters of the party that we will not accept the decision and we are not satisfied with the committee, we don't have confidence in that committee.
"I am warning members of that committee that they should never come to Zamfara, they should never put their legs in this state, and anything that happens to them, Adams Oshiomhole should be held responsible.
"We will continue with this decision until the national leadership of the party are ready to do justice," he stressed.
READ ALSO: Protest: Police invite Saraki, Melaye, Bruce over attack on policemen
The governor also debunked claims that he had dumped the APC, saying nothing will make him leave the party.
"I remain in APC and I will never leave the party. No amount of pressure will make me to leave the APC.
"I was among the founders of this party, I was in Lagos, Nasarawa states for meetings before we gave birth to the APC, therefore no amount of pressure will make me to leave the party.
"You know, changing political party is not my tradition, therefore I will not change the party and the rumour going round is not true, I am not under any pressure to leave the party."
Gov. Yari is having running battle with eight governorship aspirants in the state over his endorsement of his commissioner of finance as the sole candidate of APC in the state.