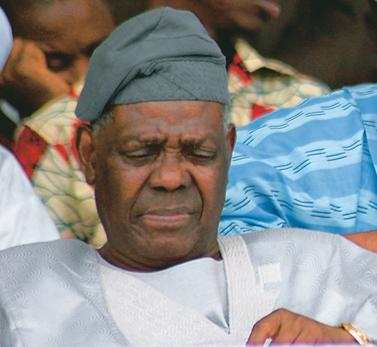 A former National Chairman of the All Progressives Congress (APC), Bisi Akande, on Tuesday, shocked his party by calling for the adoption of the 1963 Republican Constitution.
During the event which held at the Federal University of Technology, Akure, the former governor of Ogun State described the 1999 Constitution as Nigeria's "the greatest misadventure."
He, therefore, suggested that the 1999 Constitution be suspended and the 1963 Republican Constitution adopted.
Mr. Akande argued that the old constitution would take the country out of its present "political and economic jigsaw."
He said the replacement of the constitution would ensure a smooth transition during which a suitable constitution would be written for the country.
Mr. Akade said the long years of military rule destroyed the sense of democracy and good governance among Nigerian political elite.
"The Constitution breeds and protects corrupt practices and criminal impunities in governance. The 1999 Constitution can never be beneficially reviewed and the ongoing piecemeal adjustments or amendments can only totally blot the essence of national values and accelerate the de-amalgamation of Nigeria.

"All the angels coming from heavens cannot make that Constitution work for the progress of Nigeria. It should only be scrapped as a bad relic of military mentality, and it ought to be temporarily replaced with the 1963 Republican Constitution to enable a transition to the writing of a suitable constitution.''
Also speaking, the author, Mr. Arogbofa noted that the book launch served to draw the attention of the government to the issues of restructuring and true federalism, which he said were necessary conditions to develop.
He said it was the third in the series of intellectual discourse on Nigeria and her political survival.
Despite being a part of its manifesto, the ruling APC had recently set up a committee to consider the increasing agitation for restructuring and secession by some groups in the country.
The committee is headed by the Kaduna State Governor, Nasir El-Rufai, who in several forums had kicked against calls to restructure the country.