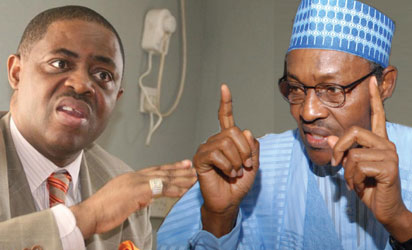 Former Minister of Aviation, Femi Fani-Kayode, has lambasted the Presidency over the audio tape of the Eid-el-fitri message of President Muhammadu Buhari it released.
Stating that the Presidency was taking Nigerians for a ride, he said the audio tape was not genuine and a mere deception.
Following insinuation in some quarters that the president had speech impairment, the Presidency had released his audio tape which was aired in some radio stations, including the British Broadcasting Corporation, BBC, to counter the claim.
In the tape, President Buhari was heard rejoicing with Nigerians on the occasion of the eid-el-fitri festival.
The content of the audio tape was the recorded version of the statement earlier issued by Buhari's spokesperson, Garba Shehu, said to be from the president.
But in his reaction, Fani-Kayode said the voice on the tape was not that of the president.
His words:  "Like I wrote in my latest essay … Nigeria is not a free nation.

"The essay asked some fundamental questions and the truth is that Hausa/Fulani control this country.

"Everybody knows the recording is not the president's voice. We are firmly in the grip of dictatorship.

"They are on top of the pyramid, the rest of us are slaves. God forbid that Nigeria continue like this, we must free ourselves."

He added:  "This is just like the one Yar'Adua purportedly had with BBC. They were trying to make us believe it was him.

"It was an extensive interview which at the end of the day, turned out wasn't Yar'Adua's voice.

"We are seeing the same pattern again. I don't know whether to laugh or cry and I don't know whether I am witnessing a comedy show.

"I speak from an informed position and I can tell you clearly and categorically that the person who spoke was not President Buhari.

"Those behind this scam are very insensitive and they have the IQ of a monkey.

"The person spoke in Hausa because it is what they consider as the official language of Nigeria. They couldn't even communicate in English.

"Can you imagine President Obasanjo or President Jonathan sending a Christmas or Eid message to the nation in Yoruba or Ijaw language?

"The whole thing is a fraud and a lie. There is no reason why the Nigerian people should not know the truth about the condition of the president.

"The cabal doesn't own him; he's our president. He has been away for 50 days now in a stretch and that by any standard is not acceptable.

"I urged the people to demand that the president be made to resign; that all powers be taken from him and transferred to the acting president.

"And those around Osinbajo should allow him act as president not as coordinator. We need direction and leadership now; not fake recordings in Hausa language."