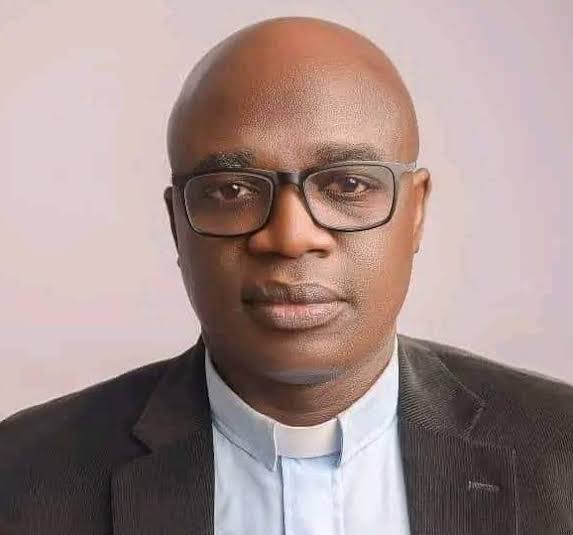 Governorship Candidate of the All Progressives Congress, APC, in Benue State, Rev. Fr Hyacinth Alia, has condemned recent serial attacks on worship places especially, Catholic Churches as well as kidnappings and killings of priests across the country.
Fr. Alia, made this condemnation following the murder of two Catholic Priests, Rev. Fr. Vitus Bogoro, and Rev. Fr. Christopher Odia, by suspected terrorists and adductors, respectively.
The Next Edition recall that Fr. Vitus Bogoro, who was murdered at Prison Farm, Kujama, along Kaduna – Kachia Road, after a raid on the farm, by the terrorists, until his death, was the Chaplain of Catholic Community of the Kaduna State Polytechnic, and the Chairman of the Nigerian Catholic Diocese of Priests Association, NCDPA, Kaduna Chapter while Fr. Christopher Odia, until his death, was the Administrator of St Michael Catholic Church, Ikabigbo, and the Principal of St. Philip Catholic Secondary School, Jattu, in the State.
Fr. Odia was reportedly killed by his abductors after being kidnapped on June 26, 2022, in the morning, at about 6.30a.m in his rectory, while coming out to go for Sunday Mass at St. Michael Catholic Church Ikabigbo, Uzairue, in Edo State.
In a statement signed by his media aide, Donald Kumun, and made available to journalists in Makurdi, Fr. Alia, who condole with the immediate families, the Catholic Archbishop of Kaduna State, Most Rev. Matthew Man-Oso Ndagoso, the Catholic Diocese of Benin City, Auchi, in Edo State, and the entire Christian community in the states, called on the security agencies in the country and the governments, at all levels, to be more proactive on the current insecurity in the Nation.
READ ALSO: Anger, Tears In South Africa After 21 Teens Likely Accidentally Poisoned In Pub
He also recalled that the mysterious killing of Fr. Joseph Bako Aketeh, in Kaduna State, who was kidnapped on March 8, 2022, from his residence, in St. John Catholic Church, Kudenda, by bandits, where the late priest, who was ill at that time, was taken without his drugs, leading to his death.
While condemning the killings in strong terms, Fr Alia assured of his prayers for the families of the deceased, the entire Kaduna State Polytechnic Catholic Community, the Ikabigbo Community in Etsako West Local Government Area of Edo State, and Nigeria as a whole.
He also advised Nigerians to continue to seek the face of God through prayers for the sake of peace.