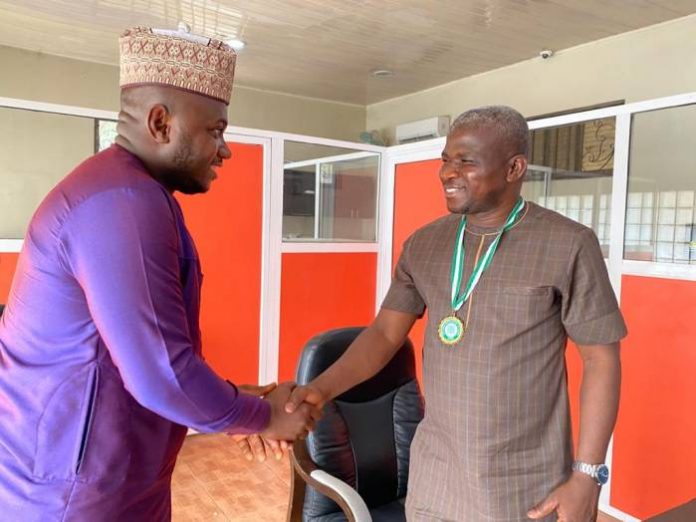 Chief Press Secretary to the Benue State Governor, Mr. Terver Akase, has charged youth groups in the country to lead the war against drug abuse, cultism and other ills prevalent among young people in the country.
Mr. Akase gave the charge in his office, in Makurdi when the Northern Youth Council of Nigeria, NYCN, the umbrella youth body for the 19 Northern States and the Federal Capital Territory, conferred on him the Sir Ahmadu Bello Platinum Award of Excellence.
The award was for emerging leaders and Promoter of Youths Affairs.
Akase commended the Association for speaking against social vices such as drug abuse, cultism and kidnapping, calling on other youth groups to emulate NYCN's awareness campaign to curtail the rising spate of crimes.
The Governor's Spokesman decried the high rate of drug abuse and cult activities in Nigerian universities leading to the loss of many young lives, stressing that the fight against cultism and drug abuse could effectively be won if officials and members of youth organizations collaborate with government and security agencies.
Mr. Akase encouraged young people to embrace agriculture and entrepreneurship in general, citing the Benue State example where Gov. Samuel Ortom has created numerous opportunities for youths such as the partnership with Bank of Industry to give loans to Benue people at only 5% interest rate.
READ ALSO: Alleged N4.8B Fraud: Ortom Does Not Shield His Aides From Investigation — Akase
The Chief Press Secretary emphasized that the future of youths in Northern Nigeria, in particular, depends largely on education, agriculture and entrepreneurship as advocated by nationalists such as Sir Ahmadu Bello and Senator Joseph Sarwuan Tarka.
He also called on the youths to prepare themselves for leadership positions by being proponents of good behaviour, assuring the NYCN delegation that he would continue to passionately project the interests of youths.
He thanked the Association for finding him worthy of the award, saying that the honour would spur him to work harder.
Earlier, Vice President National Affairs, Mr. Abdulmalik Alfa, thanked Mr. Akase for his warm reception, saying the award was a recognition of his sterling performance in the Journalism profession and the excellent manner he has served as the mouthpiece of the Benue State Governor.
He said Mr. Akase has emerged as the rallying point for youths from Benue and other parts of Nigeria as he is ever willing to assist young people to attain their goals.
The NYCN delegation led by President of the group Dr. Isa Abubakar also inducted Mr. Akase into the association's hall of fame.