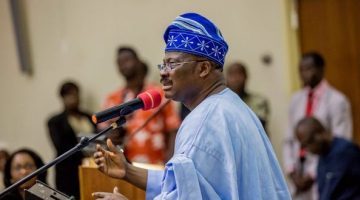 The Central Bank of Nigeria (CBN) Governor, Mr. Godwin Emefiele; Fellow and former President of the Academy of Science, Professor Ayo Ibidapo Obe; former Head of Service of the Federation, Professor Oladapo Afolabi, and the Olubadan in Council are among the dignitaries expected as the Governor of Oyo State, Senator Abiola Ajimobi officially commissions the CBN intervention project for The Technical University, Ibadan (TechU).
The State Commissioner for Information, Culture and Tourism, Mr. Toye Arulogun, disclosed this at the weekend while featuring on a live radio programme.
He said that the commissioning would come up on Tuesday, June 6, at the Tech U permanent site, km 15, Ibadan-Lagos Expressway.
He revealed that the governing board of the first of its kind in Nigeria institution would also be inaugurated on the day, saying that the board was headed by the former Vice chancellor of the University of Lagos (UNILAG), Prof. Ayo Ibidapo Obe.
Arulogun noted that the series of activities marking the 6th anniversary of Governor Ajimobi in office continued, adding that the state government would unveil its e-Governance platform on Monday to continue the commemorative activities for the anniversary.
READ ALSO: SPECIAL REPORT: How Free Education Destroys Quality in Public Schools
The Commissioner said that Governor Ajimobi was expected to commission the Apex Bank's intervention project for Tech U which consisted of a Central e-Library space for 500 students,  10 offices, 12 units of toilet facilities as well as a block of 24 lecture rooms which had 11 administrative offices, furniture, borehole,  a 500KVA Generating set, street lights, CCTV cameras, air conditioners and additional toilets facilities for male and female students.
Arulogun explained that the CBN buildings were constructed on about 1.455 hectares of land, assuring that the state would embark on additional developments on the 200 hectare university to actualise the vision behind the establishment of the TechU which was to provide technical knowledge and support base for the industrial revolution of the state and Nigeria as a whole.
The government spokesman assured that the government was assiduously working towards the October 2017 resumption date, noting that the state government would only provide seed money for the take-off of the university and there would not be any form of subvention after then as it would operate on a public-private partnership platform.
He said that the vision behind the institution was to be a self-financing one as the government would n ultimately detach itself after mid-wifing it.