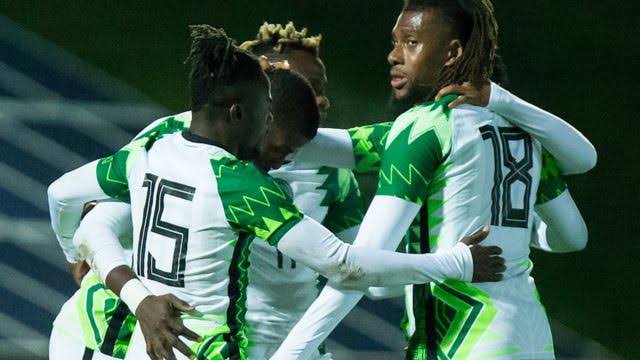 Nigeria's Football Supporters Club (NFSC) on Tuesday hailed the Super Eagles' 1-0 victory over the Pharaohs of Egypt at the ongoing 2021 Africa Cup of Nations (AFCON) in Cameroon.
NFSC President, Sam Ikpea, in a telephone interview with the News Agency of Nigeria (NAN) from Cameroon, described the victory over Carlos Queiros-tutored team as well-deserved and a morale booster.
The Austin Eguavoen-coached Super Eagles kick-started their campaign at the biennial continental football fiesta against Egypt, seven-time winners of the championship, on a bright note.
Nigeria and Leicester City of England forward, Kelechi Iheanacho, scored the lone goal that secured the maximum points for the Super Eagles in the 30th minute of the encounter in Garoua, Cameroon.
Joe Aribo, who plies his trade in Scotland, provided the assist that resulted in the all-important goal.
Ikpea said that no fewer than 300 members of the club were in Cameroon to cheer the Super Eagles and to enable them to go all the way at the competition.
"We thank God for giving us the victory today and we also thank the players because they have been able to prove that they are ready for the AFCON 2021.
"It is not a mean feat because if the players can maintain the momentum, by the special grace of God, we can come back home with the AFCON trophy.
"I also want to congratulate coach Eguavoen that has done a good job in the Super Eagles' opening match in spite of the short period he was given to assemble the team."
According to him, Eguavoen has been able to prove a point that indigenous coaches can perform better than their foreign counterparts with the right support.
READ ALSO: Don't Click On Social Media Messages Offering Free Internet Data — Expert
"Coach Eguavoen did not disappoint at all because our local coaches can do better anytime they have the opportunity," he said.
Ikpea described the peace within the various groups of the Supporters Club as a welcome development.
"We thank God for the support from the various groups in the club and the unity among us. It is not about an individual, it's for our country, Nigeria.
"It is the Nigerian spirit that has been exhibited in the manner we have supported our darling national team in Cameroon, which is borne out of patriotism.
"This is a good development. An adage says that `Divided we fall, united we stand'. We must unite so that this AFCON Cup will come to Nigeria for the fourth time."
The win against the Pharaohs of Egypt is the eight time the West Africans are trouncing the North African opponents.
Both countries have met 19 times with Egypt recording five voctories. Six outings ended in draws.
The win against Egypt puts Nigeria ahead with three points in Group D that also has Sudan and Guinea Bissau.
The Super Eagles will play their next match against Sudan on Saturday.
(NAN)