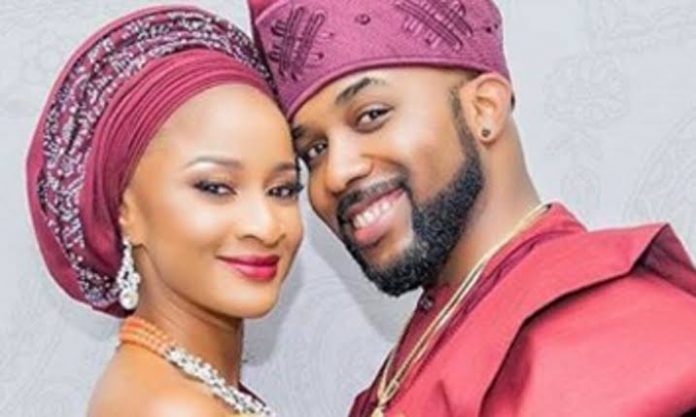 Nigerian couple, Banky Wellington and Adesua Etomi-Wellington have recounted the loss of their twins due to miscarriage.
The celebrity couple made this known on an episode of The Waterbrook series.
Adesua narrated how her twins' fetal heartbeat could no longer be heard during a routine check up towards the end of the first trimester.
She said, "So during a routine checkup, we went back to the hospital to have a scan and I just saw the doctor's face…you know when something is wrong, sometimes you can tell. She was scanning and scanning and I was like what's wrong and she said 'oh nothing' and I looked at the nurse's face and asked what's wrong and she said 'Adesua, I'm looking for the heartbeats and I said 'for the two of them?"
Adesua said at that point she was laughing because she couldn't believe what was happening and at that time her husband, Banky W was not around.
She said she got home and collapsed wailing.
"So, I went home and I remember Banky not being home at that time and I remember collapsing on the floor wailing. Wailing is different from crying, it's like a deep groin in your chest. I'm sharing because many women go through this and nobody talks about it because it is almost like a thing of shame for whatever reason and I don't know why," she said.
According to her, she and Banky W prayed over the weekend and went back the following week to do another scan but unfortunately, the story was still the same and the embryos were already shrinking and dying.
Banky W said he cried with his wife after they got home from the evacuation procedure.
READ ALSO: Man Utd Fightback Beats Brighton To Cut Man City Lead
He chipped in the fact that crying does not make you less a man.
"My love language is acts of service and I always want to fix the situation but seeing her in so much pain physically and emotionally and I could not do anything about it."
The couple had considered surrogacy and adoption but Adesua said their family pastor told them to give it six months, and after prayers and having dreams of having their own baby, she got pregnant again months after.
"Olubankole, God has done it," she said after discovering she was pregnant again.
The couple welcomed their baby early this year.