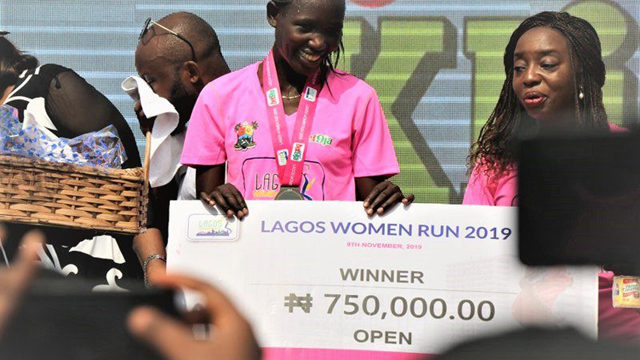 Forty-five-year-old Helen Mamman on Saturday emerged winner of the 8th Lagos Women 10-kilometre Run in the Veterans' Category with a time of 50 minutes, 11.38 seconds (50:11.38).
The veteran participated in the women above the age of 40 category.
Mamman, a former national 800-m and 1500-m runner, won the N300,000 top prize in the category for her feat.
Another former athlete, 45-year-old Blessing Paul, came second with a time of 60:39.39 to win the N200,000 cash prize.
Mamman, in an interview with NAN after the event, said it was another record for her.
"I was a former runner and I have represented Nigeria at major events. I am happy to win this, which is another record for me," she said.
Paul, in her reaction, said that she stuck to a good nutritional regime which afforded her the right fitness for the race.
Joy Ebiye emerged winner of the normal marathon with a time of 39:13.78.
She took home the top prize of N1.5 million.
Veteran runner, Deborah Pam, came second with a time of 39:22.73 and won a cash prize of N500,000, while Patience Dalyop claimed N300,000 for emerging third place in 40:02.08.
In his closing remarks, the Director-General, Lagos State Sports Commission, Oluwatoyin Gafaar, commended the runners for their efforts.
"Lagos will always support this type of sports programme and it can only get better," he assured.  (NAN)