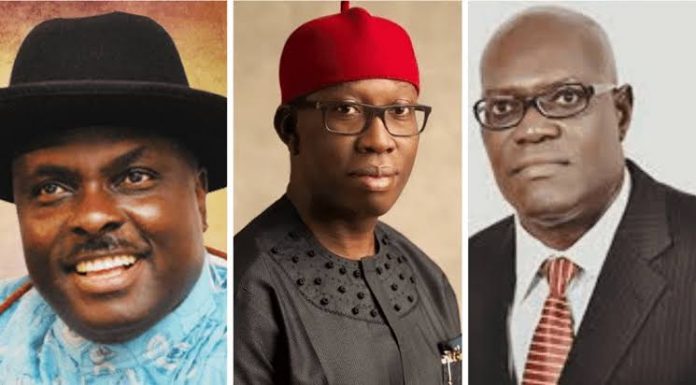 Stakeholders from the three senatorial districts in Delta State have unanimously endorsed rotation of the governorship seat in the state, saying it is the turn of Delta Central Senatorial District to produce governor come 2023.
The stakeholders who made the endorsement during an interactive session held at the country home of frontline governorship aspirant, Olorogun Kenneth Gbagi, at Oginibo, Ughelli South Local Government Area of Delta State, warned those trying to alter the gentleman agreement for their selfish interest to jettison it.
Speaking on behalf of the stakeholders, Olorogun Moses Odibo, the former Commissioner for Local Government and Chieftaincy Affairs (Delta Central), Mr. Amah Agbajoh, former Warri South PDP Chairman (Delta South) and Mr. Kalikwu Ikechukwu, former Councillor and Secretary, Ika South Local Government Council (Delta North), said there was need for them to take a final decision on the rotational policy in the state.
READ ALSO: 2023: Forget Zoning For The Presidency, Let Best Candidate Emerge- Daura
They posited that the three senatorial districts had all benefited from the rotational policy of the Peoples Democratic Party (PDP) which had transcended to other political parties in the state.
They noted that the governorship position would be for Delta Central Senatorial District come 2023 in the interest of equity, fairness and peace in the state.
Various stakeholders who spoke during the meeting including Chief Edwin Obofukoro, Archbishop Gbakara and several others adjudged Olorogun Kenneth Gbagi as the best man for the job come 2023 having done well as an industrialist and employer of labour.