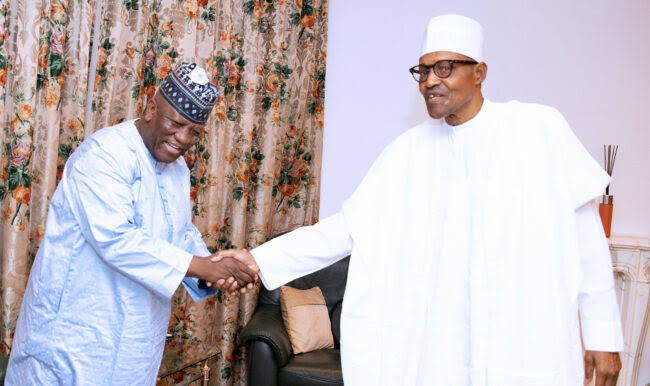 •••Respect Party's Decision On Zoning He Charges
The aspirations of Senator Abdulaziz Yari emerging the President of the 10th Senate suffered a major setback on Sunday, with former President Muhammadu Buhari's outright rejection of his aspiration for the plum Job
Sources at the ill-fated visit for the endorsement of the former president informed our correspondent that Buhari was so angry about the decision of Yari to go ahead with his aspiration forgetting the fragile nature of the country since the emergence of the President and vice president with Muslim background.
"They came to Daura believing that they could use their money to buy the conscience of the former first family just as they believe that money would get them the position. They were all told to go back and respect the position of the President and the party leadership on their choices for the leadership of the National Assembly."
READ ALSO: Observe IPOB's Monday Sit-At-Home Order And Be Shut, Enugu State Warns Businesses
It was also gathered that efforts to drag the former first lady into their anti party position did not yield any positive result as she was said to have rebuffed the attempt
She sighted the unity of the country as being paramount to the family of the former president than any personal ambition.
Only 5 Senators were said to have accompanied the Yari team to the Daura home of the former president.
Checks revealed that as the time of writing this report, the camp of Senators Akpabio and Barau has swelled with 5 new converts thus taking the number of Senators-Elect who have so far endorsed the ticket to 75.
According to Senator Opeyemi Bamidele, "despite the number we are still forging ahead with our consultations and appeals to those who are yet to join the Stability Group."