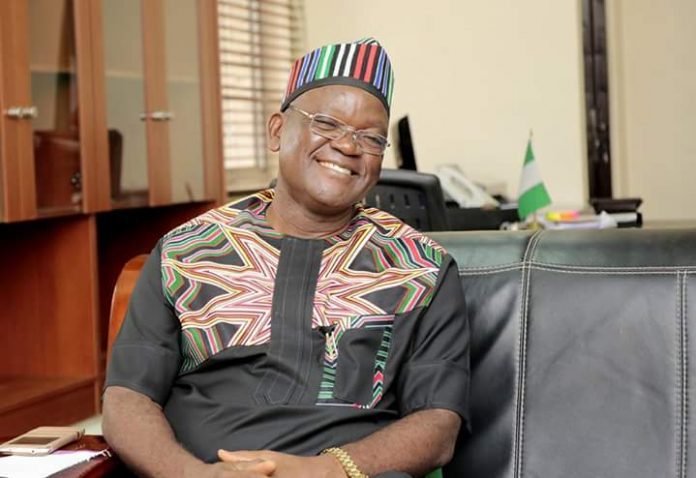 The Benue State Chapter of the Peoples Democratic Party, PDP, has congratulated Governor Samuel Ortom as he clocked 100 days in office in his second term as Governor of the state.
The State Party Chairman Mr. John Ngbede and the entire State Working Committee made the commendation while briefing newsmen at the party Secretariat in Makurdi.
Mr. Ngbede who stated that the Governor started on well with the early appointment and inauguration of the cabinet, said it was a clear sign that the Ortom administration was primed to deliver on its second term mandate creditably well.
He said the foreign trips so far made by the governor have added breadth and depth to the efforts to enhance to very significant levels, the quality of delivery of governance to the people of Benue State.
The party chairman also praised Ortom for not neglecting the welfare of workers in the state and that of retirees even in the face of dwindling revenues to his government.
"It becomes pertinent to remark on the recent protests embarked upon a few days back by retired civil servants in the state who were demanding for payment of their pensions and gratuities.
"We are particularly concerned by certain dimensions to the protests which strongly indicated they had fallen hostage to the antics of the opposition All Progressives Congress, APC, in the state who attempted to use it to score cheap political points.
"As a responsible political organisation run on a people's oriented manifesto, PDP first and foremost acknowledges that the retired civil servants who rightly must be regarded as senior citizens, are entitled to the statutory emoluments due to them after retirement from service.
"The party is equally aware that those emoluments, when not paid on time, will occasion hardship on the retirees many of who are in advanced stages of lifetime."
Ngbede therefore urged the pensioners to show understanding with the government assuring that Gov. Ortom was doing all he could to offset the remaining arrears.
The party further commended Ortom, for constituting the Pensions Commission to tackle wholistically, issues of pensions to retirees, both in the arrears and on due basis and called on pensioners in the state to support the commission to commence work before any action on their part.
The party expressed grave concerns over the involvement of chieftains of the opposition APC with the protesting pensioners who took up positions at the entrance to the Peoples House, describing it as unfortunate.
The party advised the senior citizens to be mindful of the future of Benue State and not allow themselves be used any further by unscrupulous politicians for their selfish aims.
"Governor Samuel Ortom has demonstrated commitment to the issue of the backlog of arrears being owed the retirees by constituting the Pensions Commission, and it is expected that by giving due regard to this commission by the retirees, a lasting solution will be found to the problem," he added.