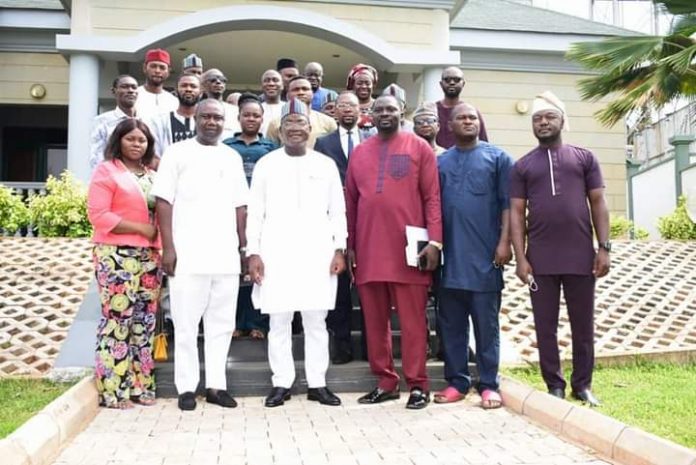 Youths under the aegis of Middle Belt Youth Organisations have called on the Federal Government to establish a North Central Development Commission for the progress of the region.
The youths also added their voice to the creation of State Police and a National Policy on Ranching to end open grazing in the country.
Officials of the Middle Belt Youth Organisations led by their Coordinator and President, Benue Youth Forum, Mr. Terrence Kuanum, made the call during a courtesy visit on Governor Samuel Ortom at Government House, Makurdi.
Mr. Kuanum said it had become necessary for the Federal Government to consider the demands among other important issues they find necessary for the overall development of the country.
He told the Governor that as a group, they were deeply worried by the security challenges in the Middle Belt region, particularly Benue, Southern Kaduna and Plateau States being perpetrated by young people like them and commended Governor Ortom's efforts so far in trying to curb the menace.
They advised other leaders of the region to emulate his statesmanship and strategies.
Responding, Governor Ortom applauded the youths in the Middle Belt for throwing their weight behind his administration's call for justice, equity and fairness in the country.
READ ALSO: Premier Hospital Pleads For Patience On Cause Of Lagos Chef's Death
Governor Ortom explained that his administration owes no one apology for insisting on justice, equity and fairness for the country saying he will continue to stand by what is right.
He expressed happiness that his fellow Governors in the North and South South have come out to ban open grazing in the country, describing as unfortunate, the decision by others to hide under cattle rearing to take over land.
"So we owe no one any apology in trying to fight for our rights and ensure that our people are equally treated and that they get justice whether at the federal, state and local government levels. It is a responsibility we owe them.
"For those of us who are leaders, we have sworn to protect the provisions of the constitution.
We believe that we cannot keep mute in the face of injustice like what is happening in our country today. It would appear like we have two constitution that is being used to run our country.
And let me make bold to say that anyone in Nigeria today who is against the banning of open grazing has an evil agenda that he or she intends to prosecute against the people of this country.
"Otherwise ranching has been identified as the global best practice in animal husbandry and we cannot do it different here in Nigeria," he said.
The Governor who commended the group for adding its voice to the cry of Benue people said "we are proud of what you are doing as young people.