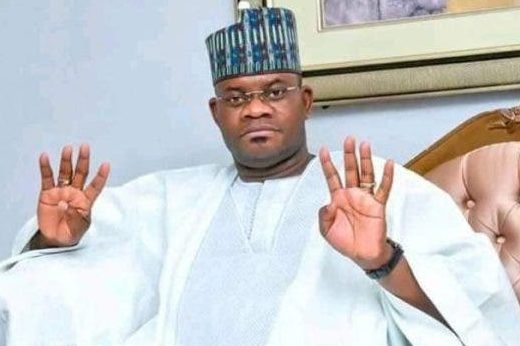 Governor Yahaya Bello of Kogi State has warned the All Progressives Congress (APC) against excluding his name on the ballot for the scheduled convention to pick the party's presidential flag bearer for the 2023 election, saying the decision will be a recipe for trouble.
The Kogi state governor, who is one of the 23 aspirants cleared to contest the party's presidential ticket, alleged a gang up against him by the APC northern governors and some elite whom he alleged have conspired against him.
READ ALSO: Owo Killing: Ooni Condemns Gruesome Massacre, Says Yorubas Have Capacity To Defend Themselves
Bello, boasting of possessing the capacity to win overwhelmingly during the party primaries if the process is transparent and credible, vowed he would never step down for anybody, adding that only President Buhari could prevail on him to withdraw from the race.
Speaking to newsmen Tuesday after he met behind closed doors with the President in the Presidential Villa, Abuja, Bello said that the APC will retain power at the center only the stakeholders play by the rules.
"Getting into the arena today, I will win overwhelmingly if the process is credible," Bello said.
He said there was no need for him to be excluded in the primary, claiming that he represents the youths and the downtrodden.
Bello said that the APC governors of northern extraction did not consult him when they took the resolution that power should shift to the south, adding that the resolution was therefore not bidding on him.
He reiterated his opposition to the concept of the rotational presidency, which he said does not give room for the emergence of a competent individual to emerge. (The Guardian)