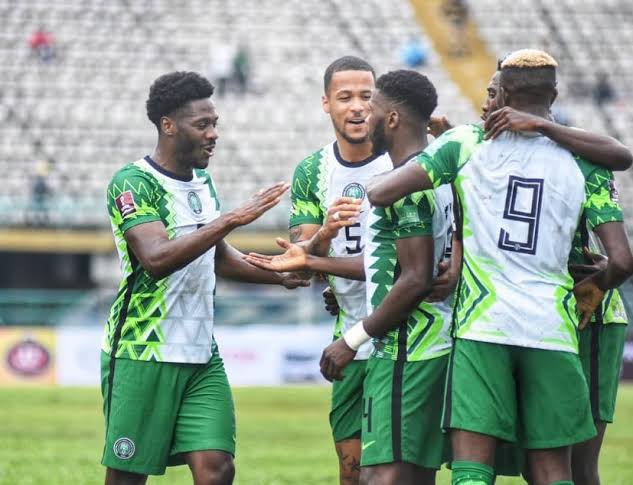 Akeem Busari, the Head Coach of Gateway United Football Club of Abeokuta on Friday said the super Eagles deserve plaudits for putting up a brilliant performance in their group C opening game in the ongoing world cup qualifier.
Busari told the News Agency of Nigeria ( NAN) in an interview that the Super Eagles winning was a great achievement and also charged the super Eagles players to maintain the greater heights they have embarked on.
Busari said that the super Eagles played the Lone Star in their opening Qatar 2022 World cup qualifiers at the Teslim Balogun Stadium in lagos with fewer fans as only 5,000 fans were allowed by the Confederation of Africa Football (CAF).
He described the feat as a plus adding that "the Sports body's adherence to COVID-19 protocol is also a relief."
According to him, it is necessary to always strive to protect the hard-earned players' trust.
"Trust in the Super Eagles Player is what gives them authoritative voice.
"I applaud the players for their hard work and dedication.
"The players should consolidate on their achievements and build on the foundation that they have laid down today," he said.
The coach observed that the team have better picture of better future and structure "that will ensure that we continue to dominate in football and play the kind of footballs that our fans know us for.
"I would like us to win more."
READ ALSO: JAMB Abolishes UTME Cut Off Marks
He added that the next game against Cape Verde "is going to be a tough one. Remember about eight regulars of Super Eagles won't be available due to COVID-19 restrictions.
"However, I think the worst result will be a draw.
"The introduction of new players is justified."
He also stressed that the Coach of Super Eagles must carefully consider the timing of substitution to successfully influence a game's result.
He should think twice about substituting players late in the second half when the productivity of their goal scorers will be at its height.
The Eagles will travel to face Cape Verde on Tuesday for Qatar 2022 world cup second game qualifier.
The Super Eagles have qualified for sixth world cup finals and are keen to make their fourth successive appearance. (NAN)