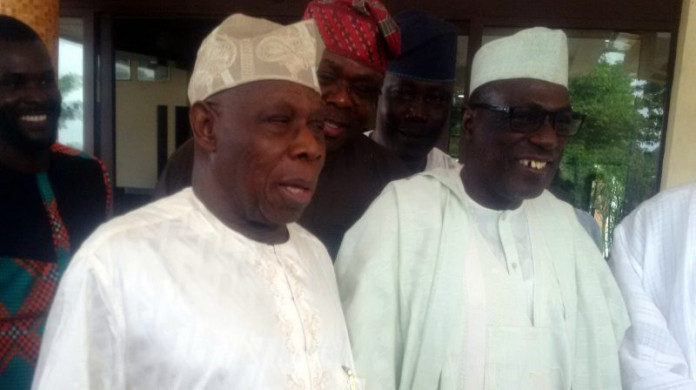 Former President, Chief Olusegun Obasanjo, has vowed that he will not go back to the Peoples Democratic Party (PDP) despite efforts by its current leadership to make him change his mind.
Obasanjo made the vow in Abeokuta on Tuesday when speaking with journalists while hosting a PDP delegation led by its national chairman, Ahmed Makarfi.
Makarfi, it was gathered, had pleaded with Obasanjo to return to the PDP.
But speaking with journalists, Obasanjo said he was done with partisan politics.
His words:  "I have told the chairman that I was in PDP before but not now. God forbid, when a dog vomits, it will go back to eat its vomit, no."
He added:  "I have said no partisan politics for me again, but Nigeria is my passion until death do us part.  Anything that concerns Nigeria; the good of Nigeria, you will see my involvement.
READ ALSO: JUST IN: Buhari pledges support for development of Niger Delta
"So, the chairman has come to greet me and he will be going. You gentlemen and ladies of the press, you can now go, leave the chairman alone.
"I have said that publicly before and I will say it again.  For our democracy to thrive and continue to be strong, we need strong party in government and strong party in the opposition."
Obasanjo who became the president of the country on the platform of the PDP left the party ahead of the 2015 general election.
He declared that he was quitting partisan politics.
He publicly tore his membership card in Abeokuta to prove that he was no longer a member of the PDP.
However, he has continued to play the role of a national leader, lending his voice to national issues.
He has also continued to remain relevant in the general scheme of national political development as he remains a force to be reckoned with.
His opinions in the scheme of national affairs have also been regularly sought.