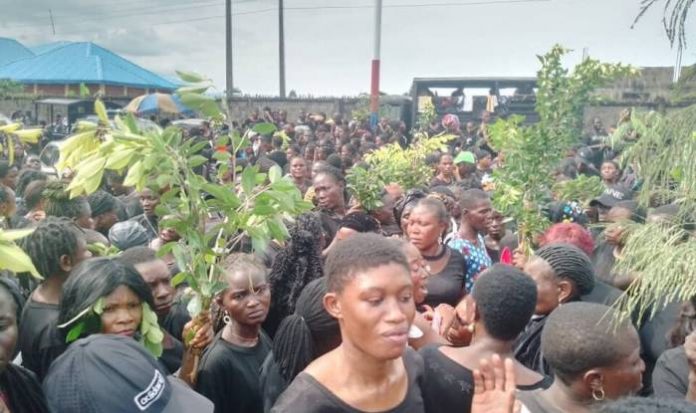 Hundreds of women on Thursday besieged the police command in Yenagoa demanding for the neutrality of the police and ensuring non-violent election in Bayelsa.
They also demanded the removal of the Commissioner of Police, Tolani Alausa, to allow for the neutrality of the command during the election.
The women, dressed in black attires urged President Bola Tinubu and the Inspector-General of Police, Kayode Egbetokun, to ensure that the votes of the people count.
One of the women, Madam Alice Daniels, said "All we are asking for is a violent free election in the state."
She added that the police must be neutral and protect the rights of voters.
"Can't we just vote for our preferred candidate in peace. We want a nonviolent exercise. The police should protect the people and allow us vote who we want.
"This shouldn't be like other elections where people manipulate election," Daniels said.
Mrs Timitimi Ebipador, a human right activist, urged the police and other security agencies to properly  oversee the election process.
She said "We are appealing to you for the conduct of a peaceful election, we want an exercise devoid of violence.
"You are responsible for the provision of security of our lives; that should be your duty, not interfering in the election itself.
"No blood of any Bayelsan is worth the blood of any politician, do all it takes for a non violence election.
"We beg you to protect us, we want our husbands, children and even brothers safe after the exercise.
"We have experienced it on several occasions.  In 2019 and 2015 it was marred by violence and till this moment nobody was prosecuted and jailed for the violence."
The News Agency of Nigeria (NAN) reports that the protesters were received by the DIG Sokari Pedro, who assured them of a peaceful election on Saturday.
He said that the police and other security agencies have taken measures for the smooth conduct of the election while all personnel were directed to be professional in their conduct.
"We have heard your agitations, and we will ensure a peaceful conduct of the exercise before and after.
"I just addressed stakeholders of the various parties and other state actors that the election will be peaceful.
"2023 is not 2019 and 2015, we have put all measures together for a peaceful process. All security architecture are in place.
"Also pass the information to your people in various communities to let peace reign; without peace there will be no development in our communities, we have to avoid unnecessary confrontations with people this election season," the DIG said. (NAN)