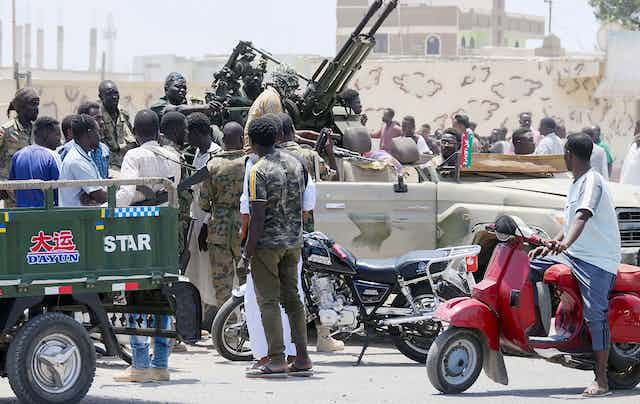 The World Health Organisation (WHO) says no fewer than 330 people have been killed due to fighting in the capital Khartoum and several other states, including Darfur States.
The UN health agency on Thursday also said no fewer than 3,200 have been injured in Sudan since a military power struggle between the Sudanese armed forces and a paramilitary group sparked violent clashes six days ago.
"The situation in Sudan is increasingly concerning and heart breaking," WHO Director-General, Tedros Adhanom Ghebreyesus, wrote in a statement posted on his official Twitter account.
Ghebreyesus condemned all loss of life, especially attacks on civilians and healthcare.
He expressed deep concern over reports of forces occupying health facilities, underlining that attacks on healthcare are a flagrant violation of international law.
"The lack of safe access of electricity, food, water, personnel and the diminishing medical supplies are making it nearly impossible for many health facilities to function at the exact time when there are thousands injured in need of urgent care," he said.
Ghebreyesus urged the sides to respect the truce so that people can seek refuge or healthcare, or access food, water and medicine.
Similarly, the head of the UN Children's Fund (UNICEF) also called on the parties to respect their international obligations to protect boys and girls from harm and to ensure humanitarians can quickly reach children in need.
"Five days of intense hostilities in Sudan, and four failed ceasefires, have already taken a devastating toll on the country's children," UNICEF Director, Catherine Russell, said in a statement.
"If the violence does not stop, this toll will only increase."
She said at least nine children have reportedly been killed, and more than 50 reportedly injured as hostilities continued in Khartoum, the Darfur states and North Kordofan, though insecurity makes it difficult to collect and verify information.
"We have received reports of children sheltering in schools and care centres while fighting rages around them, of children's hospitals forced to evacuate as shelling moves closer, and hospitals, health centres and other critical infrastructure damaged or destroyed, limiting access to essential and lifesaving care and medicine," she added.
Russell said the crisis has disrupted critical-life saving care for an estimated 50,000 children suffering from acute malnutrition, who need ongoing round-the-clock care.
"The fighting also puts at risk the cold chain in Sudan, including over $40 million worth of vaccines and insulin, due to the breaks in the power supply and the inability to restock generators with fuel," she added.
Meanwhile, the World Food Programme (WFP) warned that the violence could push millions more into hunger.
READ ALSO: Aviation Unions Vow Total Airports Shutdown After 7 Days
WFP had planned to support some 7.6 million people in Sudan this year but was forced to temporarily halt operations as the fighting is preventing teams from carrying out activities such as delivering critical emergency food, providing school meals, and preventing and treating malnutrition.
The UN agency has also suffered immense losses as three staff members were killed in crossfire on Saturday, and two sustained severe injuries.
WFP added that its staff, offices, vehicles, equipment and food stocks have also come in the direct line of fire.
The UN Humanitarian Air Service (UNHAS), which WFP manages on behalf of the international community, is now completely grounded.
One aircraft in Khartoum has been damaged beyond repair, and at least 10 vehicles and six food trucks have been stolen.
Additionally, WFP guesthouses, offices and warehouses in Nyala, South Darfur, have been overrun and looted, resulting in the loss of up to 4,000 metric tonnes of food.
With Sudan's health system reportedly at near collapse, the UN reproductive health agency, UNFPA, is concerned about pregnant women who require ongoing care and access to hospitals where they can safely give birth.
UNFPA Regional Director Laila Bakur, estimated that there are approximately 219,000 mothers-to-be in Khartoum alone.
"We find that there is very little that we can do in terms of provision of care, and they have not been able to access any form of safe delivery," she said.
Bakur spoke about one of the tragic cases UNFPA has encountered, concerning an expectant mother who was caught in crossfire and struck by a bullet while desperately trying to get to a hospital.
"Although she was rushed to the hospital – UNFPA is providing services even over the telephone in terms of guidance and telemedicine wherever it's possible – we were able to save the child, the baby, but the woman sadly died," she said.
"We're greatly concerned that situations on the ground where the respect for civilian life and access to medical care is not respected by conflicting parties will result in more cases like this.
"We really and truly wish, and ask all of the parties in conflict to respect international humanitarian law, particularly where access to healthcare is concerned," the official said. (NAN)