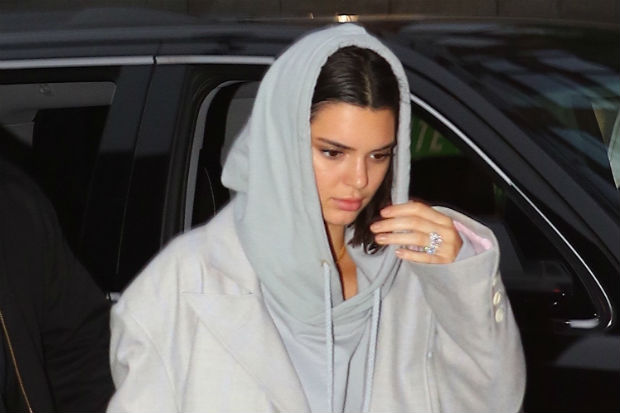 Someone put a ring on it — but it's unclear if the giant diamond sparkler on Kendall Jenner's left ring finger was put there by ASAP Rocky to mark an engagement… or by the model herself as a more standard accessory.
The 21-year-old reality TV starlet had everyone talking on Monday night when she stepped out for her beau's concert in New York City sporting what looked strikingly like an engagement ring.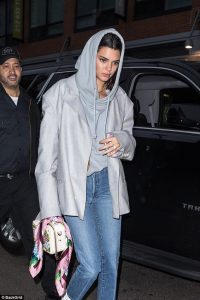 Besides the huge ice rink on her hand, Kendall was dressed casually for the occasion in stonewashed jeans, ankle boots, a hoodie, and a loose overcoat. She still looked amazing, but she was definitely opting for comfort above all else.
Her boyfriend/maybe-fiancé looked equally comfy in a black shirt and blue-and-orange pants. He also had a ring on his left ring finger — but it was very obviously not a wedding band. (Wah-wah!)
While Kendall and ASAP have seemed to be quite serious about one another, it's unclear if this diamond means something or not. After all, her sister, Kylie Jenner, has a penchant for sporting hardware on her ring finger without actually being engaged… so perhaps Kendall is doing the same. (ICYMI, Kylie was spotted with an "engagement ring" as recently as February, but has insisted it's only a promise ring from Tyga.)
Kendall and ASAP have been dating for about 11 months and were first spotted out together last July at the Mr. C hotel in Beverly Hills. Since then, they've enjoyed snuggling up together in various locales, including Paris and Hollywood.
We'll have to wait and see whether this sparkler marks a relationship milestone for the model — or if she just likes sparking rumors as much as her sister does. Whether it's an engagement ring or not, though, one thing is for sure: It's enormous.