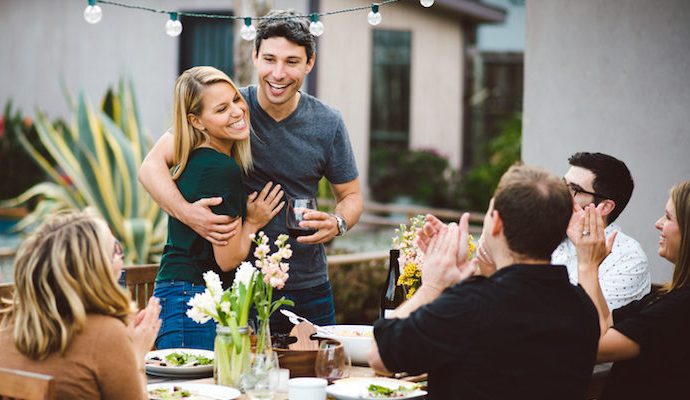 When a young man or woman begins to date, it's usually the friends and maybe some close siblings that get to meet the partner first.
Meeting the partner's parents, especially the mum comes later when the relationship gets serious and perhaps marriage considerations come into play.
Many people approach the first meeting with a partner's parents with a lot of fear and anxiety.
'Will they like me?' How should I dress? What are we going to talk about? These and so many other worries turn a lot people planing such visits into nervous wrecks.
While you cannot predict or control how they will receive you, you can put your best foot forward to ensure that the first meeting goes well.
Here are some dos and don'ts that will project you in a good light:
1. Do your homework.
Never walk into that situation without doing some research on them. Ask your partner questions about their parents; what they do, their temperaments, their likes, what puts them off etc. This helps you to prepare and also to know situations to steer clear of. Learn a bit about their culture if it's different from yours. Ask about family dynamics so you know who and what to focus on. You also need to know the person you have to work extra hard on.
2. Greetings
In any African home, your assessment begins from the way you greet. For the father, a strong handshake with two hands, a small bow and a 'Good afternoon Sir' is standard. For the mother, offer half a hug with a 'Good afternoon Ma.'
The western greeting of 'Hello Sir,' 'Hey' won't suffice at all. If you're the same tribe with the family you are visiting and you have a particular way of greeting elders, then that's the way to go.
3. Dress to 'impress'
Dress to impress their conservative side. Most African parents are conservative so, it will give you points to dress to appeal to that nature. It's not the day to wear your crop tops, thigh high slit dresses, skin tight jeans, cleavage baring clothes, distressed jean and so on. For the men, saggy jeans, 'rapper-type' belt buckle, distressed jeans and some certain 'pams' won't do.
This is not to say you should dress like you would for an interview. Let the venue and occasion for the meeting guide your dressing, but you need to be modest and well groomed. Like parents will say, "Dress like you came from a home" and a good home at that.
4. Go with a Gift
It mustn't be something expensive or flashy. You can go with a bottle of non-alcoholic wine or dessert if you know food will be involved. If they are the intellectual type, pick up a book on a subject you know they are interested it. (This is where your research comes in). Even if your partner says you're 'just stopping by' and they weren't pre-informed, don't go empty handed.
5. Compliments
Compliment the mum on her house decor, what she's wearing or hairstyle, the meal she prepared. This will go a long way with Nigerian mums.
6. Conversation matters
Stay off controversial topics as much as possible. Even when they come up, avoid stressing your point vehemently. It can easily go downhill when argumentative topics come up. Keep it light. You don't want her dad getting agitated by talking politics on your first meeting. That will always be how he remembers you.
7. Participate
Don't just sit in your corner and not contribute in the conversation. Ask about a picture you see in the room, talk about the landscaping you saw as you walked in. Notice things in the room and proceed from there. This tells them you are not just asking from a set of pre-planned questions, but that you are actually involved. Your research if you did it, will help you here. This doesn't mean you shouldn't plan some questions beforehand; the key is to lead into them and make them all flow.
8. No PDA aka Hands Off
If you're the lovey-dovey couple, this is not the day to show that. As a man, keep your hands off her as you don't want the parents thinking all you want is to sleep with her. As a woman, keep the leaning into your man at zero because your dad is already thinking, "My baby girl is having sex" and you don't want to fuel that thought.
However, it does not mean you can't show love to each other around them at a later date, but allow them get to know you first.
9. Do Not Get Drunk
This goes without saying. Meeting your potential in-laws or even your girl's parents is not the day to test your drinking prowess. Even if everyone around you is doing it, don't. Even if the drinks are flowing, do not indulge. Do not even get close to your usual limit.
10. Keep it casual
As a lady, if they ask you what you do, answer but don't go into too much detail. It's not the time to tell them you got two promotions in a year. An average Nigerian parent will see you as a woman who doesn't have time for family. It doesn't even matter if he introduced you as a fiancee or not, the cards will be decked against you from day one. Keep the details for later.
However as a man, do not be vague. If you're a business man, don't just say that, state what business. If you work in the bank, state your position. Don't talk too much on it but don't leave them to fill the blanks. Find a balance between showing them you have an actual legitimate source of income and not sounding like you are bragging. They just want to know their daughter is / will be in good hands.
11. Offer Assistance
As a man, if they are talking of moving a chair or something, offer to do it.
As a woman, if you ate, help to clear the table. The key is to do what you know you're comfortable with. If you know as the relationship progresses, you won't be comfortable cooking in her kitchen then don't offer to cook on the first day. However there's nothing wrong with clearing the table after you ate or asking where the dustbin is to dump leftover from snacks that was offered. It shows you're respectful when you offer.
12. Thank Them
At the end of the visit, be sure to thank your hosts. Showing your appreciation is the easiest way to show you are responsible and polite.
You will endear yourself to them faster if you do this well and not flippantly.