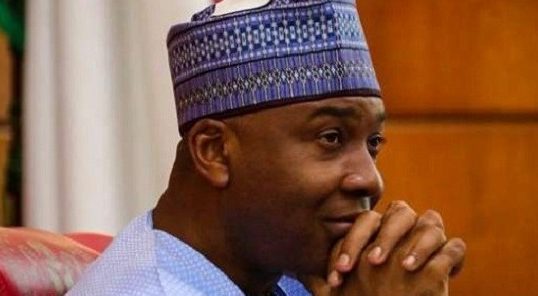 Former Senate President, Dr. Olusola Saraki has called on Kwara youths and those perpetrating violence in the state to stop and give peace a chance.
Saraki, took to his Twitter handle on Saturday to plead with Kwarans to comply with the curfew imposed on the state.
He noted that the mistakes of government notwithstanding, it should be given the opportunity to correct itself.
The Next Edition reports that Kwara, like many other states in the country, has witnessed looting and destruction of properties by thugs masquerading as #EndSARS protesters.
READ ALSO: FCT Minister Says No Hoarded Palliative Items In Territory
Saraki, who was once the governor of Kwara state wrote:
"To my fellow Kwarans:
"I have observed that despite the curfew declared by the State Government in response to the ongoing anger across the state, people are defying the stay-at-home order and still moving round to attack public and private properties.
"I hereby appeal to all Kwarans to please cooperate with the state government and comply with the directives to remain calm, eschew violence and stay at home in compliance with the curfew.
"Irrespective of the obvious mistakes that must have fueled this anger, we must give the government the opportunity to correct itself.
"We must avoid anarchy in our dear State of Harmony. As Kwarans, violence is not our nature. I plead with all our people not to allow our State turn to a battleground or a lawless society.
"May Almighty Allah continue to bless Kwara State and all its peace loving people."