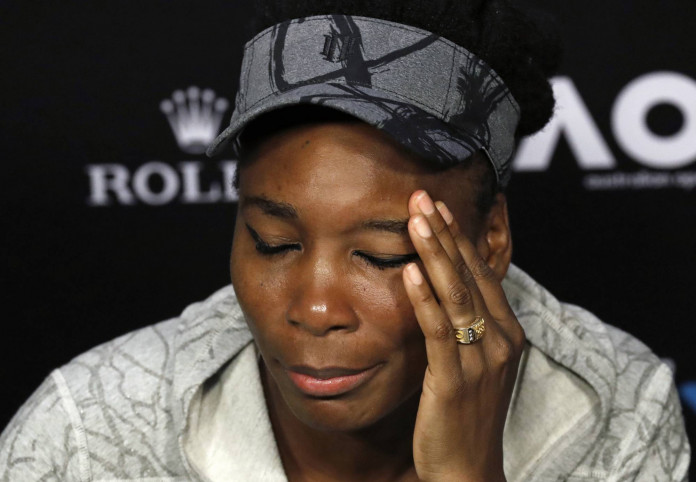 Tennis star Venus Williams said she was heartbroken by the death of a man in a two-car crash in Florida that a police report blamed on her driving, breaking her silence about the fatal accident three weeks after it occurred.
Williams posted the message on her Facebook page on Friday, the day after Palm Beach Gardens police released a preliminary report saying she was the driver at fault in a June 9 accident that left Jerome Barson, a 78-year-old passenger in the other car, with fatal injuries.
"I am devasted (sic) and heartbroken by this accident," wrote Williams, the world's former top-ranked female tennis player. "My heartfelt condolences go out to the family and friends of Jerome Barson and I continue to keep them in my thoughts and prayers."
News of the fatal wreck near her home in Palm Beach Gardens surfaced in media accounts on Thursday, days before the 37-year-old athlete was planning to compete at Wimbledon, which begins in England next week.
After the crash, Barson was taken to a Florida trauma centre where he died 13 days later, according to the Palm Beach county medical examiner.
The police report estimated Williams was travelling at about 5 miles per hour (8 kph) at the time of impact and was not distracted or suspected of any drug or alcohol use.
Williams's attorney, Malcolm Cunningham, did not directly address the accident report's finding that his client was at fault, but said the tennis star was not issued "any citations or traffic violations."
Williams is currently ranked 11th in the world and seeded 10th at the Wimbledon tournament, which she has won five times.
Her sister Serena, ranked No. 1 in the world earlier this year, is taking a break from tennis while preparing to give birth this fall.