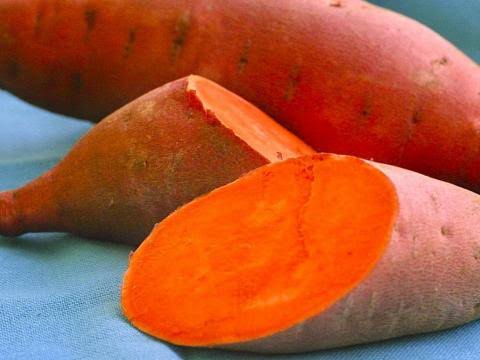 Mr. Douglas Akuba, a Nutritionist based in Abuja, has advised Nigerians to use orange-fleshed sweet potato flour as an alternative to wheat.
Akuba, who is also the Chief Executive Officer (CEO), Green Economy Alternative Africa, gave the advice in an interview with News Agency Agency of Nigeria (NAN) on Saturday in Abuja.
According to the nutritionist, Vitamin A sweet potato orange fleshed is rich in nutrients than wheat and cassava flour consumed in many homes today.
He said that this alternative can make up for the pre-and post-Russian/Ukraine War negative impact on the African food insecurity.
He disclosed that these varieties of sweet potato are healthy and are rich in Vitamin A, C, E and several B vitamins.
"They are also rich in Zinc and iron, Potassium and fibre which contains bone collagen as announced by the Cancer Prevention and Research Institute of the State," he explained.
He, however, stressed that the consumption of sweet potato could eliminate Vitamin A deficiency, noting that "Sweet potato is better than wheat because it is cheaper while imported wheat is costly.
"With vitamin A deficiency being one of the leading causes of micronutrient deficiencies in children up to the age of six and among pregnant women, flour made from orange-fleshed sweet potato could offer a helpful solution.
"Also, because the novel drying technology of combining microwave and infrared applications result in a higher retention of beta-carotene, the orange-fleshed sweet potato flour that is produced will be a particularly strong source of vitamin A," he explained.
He said that the human body converts the BC into Vitamin A (Retinol), retinol activity equivalents (RAE). Studies have shown that 13 units of BC convert into one unit of retinol (Vitamin A).
"That's why a child of 1-3 years old needs 300pg Retinol Activity Equivalents (RAE) of Vitamin A daily while a child of four to five years old needs 400pg of Vitamin A daily," he explained.
Akuba disclosed that the orange-fleshed sweet potato is also rich in calcium, and iron folate, the leaves are an outstanding source of lutein, a micronutrient which helps prevent eye degeneration as a person grows old.
READ ALSO: Gen. Danjuma Restates Call On Nigerians To Defend Themselves Against Bandits
"The amount of lutein far exceed other common green. Leaves are a good source of other healthy nutrients, including vitamins, minerals and a host of Polyphenolics, omega-3 fatty acids and dietary fibre.
"Anthocyanins and Polyphenolics are anti-oxidants and can help fight inflammation and cancer.," he explained.
The CEO said that most meals can be fortified with Vitamin A sweet potato and mixing all food with orange-fleshed sweet potato can become one of the most important diets that can be used in the country's school feeding programme and by internally-displaced persons across the country, just same way the world food programme provided fortified food with soya beans and maize or sorghum," he said.
He said that with the Green Economy Alternative, Africa is already creating a platform for bakers Associations on the continent and in Nigeria to make use of Vitamin A sweet potato puree for the entire confectionery in processed food products on the continent
"Orange-fleshed sweet potatoes can be used in several ways – boil it as a root and eat it, turn it into French fries.
"As flour, the application of orange-fleshed sweet potatoes is more diverse: the flour can be used in baked products like fortified bread or biscuits; as stabilisers in soups; as a thickening agent, due to its rich dietary fibre; and because of its low viscosity, it can be used to make baby food – it is easy for infants to swallow," he said. (NAN)