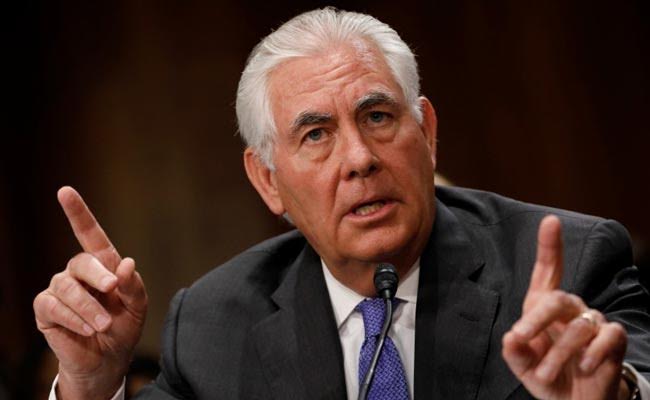 The US is expelling 15 officials from the Cuban embassy in Washington because the government in Havana failed to protect US diplomats who have suffered mysterious "attacks" at their own embassy in Cuba, Secretary of State Rex Tillerson said.
The State Department delivered a diplomatic note Tuesday to the Cuban embassy in Washington ordering 15 listed Cubans to leave the United States within seven days.
The US announced on August 29 that it was withdrawing more than half of its diplomatic staff and all family members from Havana in response to alleged attacks that have mysteriously affected the health of embassy personnel in the Cuban capital.
Another State Department official, speaking to reporters on condition of anonymity, said Tuesday that 22 people from the embassy in Havana have now been affected.
The diplomats experienced unexplained health problems from attacks that occurred as recently as August, including ear complaints, hearing loss, dizziness, tinnitus, headache, fatigue, cognitive issues and difficulty sleeping, the State Department said last month.
Tuesday's expulsions "will ensure equity in our respective diplomatic operations" in Havana and Washington, Tillerson said.
"The decision was made due to Cuba's failure to take appropriate steps to protect our diplomats in accordance with its obligations under the Vienna Convention," he said.
The Cuban embassy in Washington did not respond to dpa's request for comment.
The US restored formal ties in 2015 with Havana after more than half a century.
"Until the government of Cuba can ensure the safety of our diplomats in Cuba, our embassy will be reduced to emergency personnel to minimize the number of diplomats at risk of exposure to harm," Tillerson said.
"We continue to maintain diplomatic relations with Cuba, and will continue to cooperate with Cuba as we pursue the investigation into these attacks."
The unnamed State Department official said the reduction at the Cuban embassy was equivalent to the impact of the US staff withdrawal from Havana.
Media speculation has centred on possible use of sound waves by elements of the Cuban security services or a third country.
The unnamed State Department official said that US investigators "have been unable to determine who or what is causing these attacks."
He said that the problems affecting diplomatic personnel had "persisted over a long period of time, now, that has made it very clear that our people are suffering these attacks from some unknown means and method."
"The decision to call them attacks reflects that there's been a consistent pattern of our people being affected.  There's no other conclusion we can draw," he said.
The union that represents US diplomats has said the attacks have caused "mild traumatic brain injury" and "permanent hearing loss."
Last week, Cuba dismissed the withdrawal of US diplomats as "rash," and denied any involvement in the reported health problems.
It said it remained committed to continuing cooperation with Washington.
The reduction of both embassies to minimum staffing is expected to impair issuance of visas for people seeking to travel between the US and Cuba.