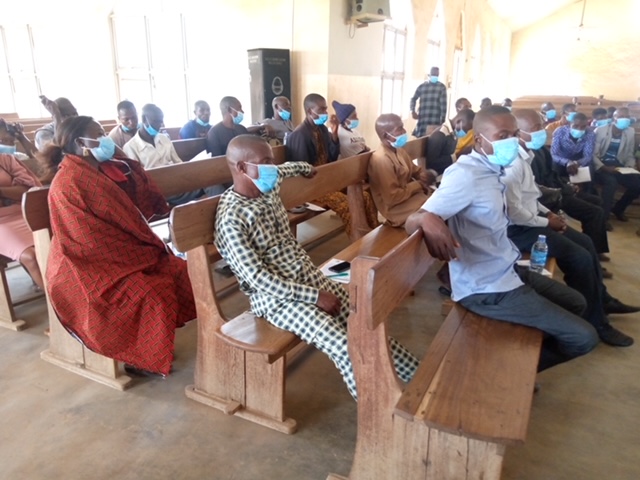 The United Nations Children's Fund (UNICEF) in conjunction with National Population Commission, NPC, has urged Benue people to ensure adequate registration of children under the age of five years for proper documentation and social welfare planning.
UNICEF's Child Protection Specialist, Enugu Field Office, Mr. Victor Atuchukwu, and the Director of NPC, Mr. Stephen Tsemende, spoke in Gboko Local Government, at a one-day stakeholders' engagement with religious, traditional and community leaders from Ushongo, Gboko, Tarka, Konshisha and Buruku LGAs.
The event was organized by NPC Benue state in collaboration with State ministry of Health and Primary Health Care Development Agency with support from UNICEF to ensure strengthened collaboration, partnership towards improved under-5 Birth registration service delivery in Benue.
Mr. Atuchukwu lamented the low number of birth registration of under five children in the state and urged participants to go back to their domain and carry out massive awareness and encourage their people to register the children.
UNICEF's Child Protection Specialist who stated that UNICEF is very passionate about the welfare of Children said they would continue to partner with the state for the good of Benue children and called on the stakeholders to play their role well.
According to him, available data shows that out of the Benue's population, only 39 percent of under five children were registered.
He added that out of the 39 percent who are registered, only 21.7 percent registered with the NPC while only 16.9 percent have their birth certificates.
He noted that while about 63.4 children have their births registered in private hospitals and clinics with 7.2 percent registered with local government authority, 7.6 percent others registered with other authorities.
"Some registered with the Church during Baptism and have Baptism cards only. Others have hospital notes and papers. We need to educate them to register with appropriate authority.
"We must play our part to ensure that this lapses does not erode the benefits our children should have gotten through proper registration and planning by government because government can only plan with available data."
He also appealed to the NPC to rise up to its responsibility to ensure that all children in Benue State are duly registered saying, birth registration is important for the survival, health, education, social service delivery of the Nigerian child.
Welcoming participants earlier, state Director of NPC, Mr. Stephen Tsemende commended participants for availing themselves saying the Commission was not created to conduct census alone but to, among other responsibilities, register all the children born in the country.
He thanked UNICEF for the support and passion for the welfare of Benue Children assuring that at the end of the meeting, more awareness will be created about NPC and more births would be registered.
Also speaking, Commissioner for Health and Human Services in Benue, Dr. Joseph Ngbea, who was represented by Director of Public Health, Terna Kur, also commended UNICEF and NPC for the collaboration saying the Health Ministry is happy to support such initiatives that would further enhance government's efforts at harnessing proper healthcare service to the people of the state.
Stakeholders who spoke to our correspondent after the event said they would create awareness in their domain using the church, market square, village meetings among other social gatherings, on the need for all parents to register their children with the NPC.
READ ALSO: FG Fixes Transmission Line in Benue, Promises Power Boost Across Nigeria
Some stakeholders from Ushongo LG, Theresa Nyityo and Blessing Tivzua assured that they will mobilise and sensitize all the women in their church and market to ensure that all children born in their area are registered.
"We in this part of Benue villages are far behind in birth registration. I will volunteer this information wherever I go," Nyityo said.
Another stakeholder from NKST Church, Tse Agbaragba, in Konshisha LGA, Godwin Inienge, promised to create awareness and tell the people about the benefits of registering their children.
"I am targeting my people in the church. It will be a good avenue to reach a good number of people," he said.