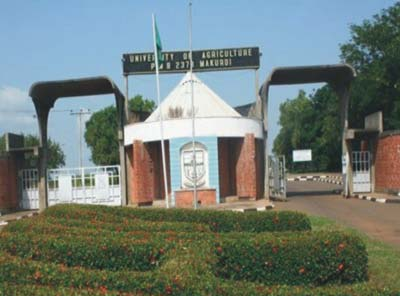 The management of the Federal University of Agriculture, Makurdi, Benue State is yet to be officially notified of the institution's new name as announced by the Federal Government.
The government had last two weeks announced the renaming of the institution as Joseph Sarwuan Tarka University.
The move followed President Muhammadu Buhari's assent to a bill amending the law that set up the university.
Weeks after, the university authority said the government has not communicated the change of name to it.
The university's spokesperson, Rosemary Waku, made this known to newsmen in Makurdi on Tuesday.
Mrs. Waku said the university management is yet to receive an official document with regards to what would spell out the change of the name.
"People are saying that the university is now a conventional university and no longer a specialized university of agriculture.
"I think our position is to wait until we receive official communication from the appropriate quarters via ministry of education.
"It is only after that we can authoritatively speak on our new status. We are hoping that by next week, if they are doing what they are supposed to do, we would have that official communication.
"We won't want to be speaking on a subject we don't know," Mrs. Waku said.
According to her, President Buhari's decision and subsequent approval of the renaming of the institution needed to be communicated officially to the chairman-in-council, who would in turn, pass the information to the vice chancellor.