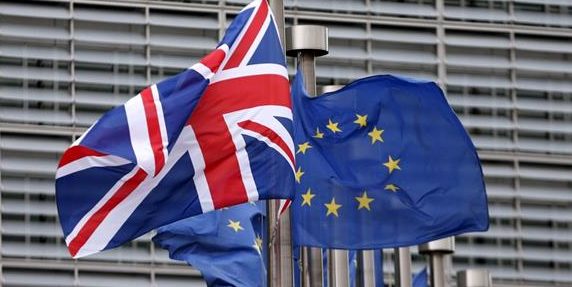 Britain unveiled its planned residency rules for EU citizens living in the UK after Brexit, promising an "easy" system that would work in the favour of those wanting to stay.
The issue of what would happen to the over 3 million EU citizens currently living in Britain was one of the most contentious aspects of divorce talks before a withdrawal treaty was agreed in principle between London and Brussels in March.
Home Secretary and Interior minister, Sajid Javid, said on Thursday the proposed EU Settlement Scheme would be a "simple and straightforward" process, designed to ensure that EU citizens could remain in the country indefinitely.
"Throughout, we will be looking to grant, not for reasons to refuse,'' he added in a statement.
Under the scheme, EU citizens who have lived continuously in Britain for five years would be granted settled status, giving them the same rights to work, study and access benefits and services as they currently do.
Javid said that the scheme would also apply to their close family members, such as spouses, children, parents and grandchildren.
"Those living in the UK before December 31, 2020, but who had not met the residency criteria, would be granted pre-settled status until they met the five-year test,'' Javid noted.
Home Office officials say the scheme, which will be phased in later this year and run until June 2021, was designed not to be burdensome.
READ ALSO: Foreign Titbits: Trump backs down on migrant family separations policy
Applicants need only to prove their identity, residency in the UK and not to be a serious criminal, with help available to try to ensure they got a positive outcome.
Some 1,500 staff will work on the project, which will operate online or via Smartphone app, although currently unavailable to Apple users.
Each application will cost 65 pounds (85 dollar) or 32.50 pounds for a child, with every individual needing to apply.
For those who already hold a valid permanent residence or have indefinite leave to remain, it will be free.
"We want to make it as easy as possible for EU citizens and their family members in the UK to secure their rights," the Home Office's statement of Intent said.
Britain and the EU are still wrangling over the future relationship after Brexit, with the possibility remaining that the UK could leave the bloc with no deal in place.
Javid said whatever happened in talks Prime Minister Theresa May had made it clear that EU citizens living lawfully in Britain would be allowed to stay.
However, he said that he was concerned that Britain had not seen any similar plans from EU states on how they would treat British nationals in their countries.