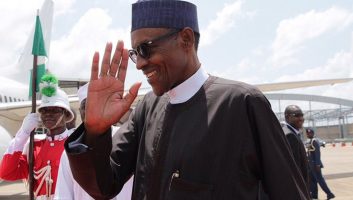 Top politicians and leaders in the country have continued to react to the return of President Muhammadu Buhari to the country.
Buhari arrived Abuja on Saturday afternoon after over 100 days in London for medical attention.
Vice President Yemi Osinbajo; national leader of the All Progressives Congress, Asiwaju Bola Tinubu; Governor Abdullahi Ganduje of Kano State; Governor Yahaya Bello of Kogi State and Governor Samuel Ortom among others expressed their happiness.
Besides, they spoke about the significance and possible effect of his return on the current administration of the country.
Expressing happiness over the return of his boss, Osinbajo said the recovery of the president indicated that Nigeria's economy would soon recover from its poor state.
Speaking with journalists on Saturday shortly after conferring with Buhari, Osinbajo said:
"The message to Nigerians is that first the recovery and the recuperation of the president is in some sense symbolic of the recovery of Nigeria.
"Nigeria is going to recover. We are on the path to sure economic recovery.
"This is a good sign, it is an excellent sign that our country is on the right path.
"There is great hope, there is great excitement and we are going to make it as a nation and as a people.''
In his reaction, Tinubu, in a statement entitled 'President Buhari's Return: A Nation's Hope Fulfilled' in Lagos, said just as Nigerians gathered to pray for the health and return of the president from medical vacation abroad, they should remain supportive now that he is back.
Said he: "Just as we gathered to pray for his health and his return, we must remain united in spirit to support President Buhari as he pursues the progressive agenda for which he was elected, and that promises us all a better day.
"Our nation is strong, but must overcome many challenges. We can do so with President Buhari at the helm and with the rest of the nation in active support.
"Thus, the president's return is both real and symbolic.
"We all must renew our faith in our collective purpose  and rededicate ourselves to a nation indivisible and united in reconstructing our political economy so that it provides a decent and good life to all our people."
Governor Samuel Ortom of Benue State also spoke.
In a statement by his Chief Press Secretary, Terver Akase, he said the jubilation which had greeted President Buhari's return indicated that majority of Nigerians were happy with the good work he had been doing for the country.
The governor also commended Osinbajo for effectively running the affairs of the nation while the president was away.
He implored Nigerians to remain committed to national unity and progress.
He also expressed confidence that the country would overcome its current economic challenges and attain greater heights.
The Governor of Kano State, Abdullahi Ganduje and Governor Bello Yahaya of Kogi State also expressed their happiness over the return of the president.
"As the President has returned, even though we had a capable lieutenant who held forth for him, and we thank him, now that he is back let him continue the good work he has been doing and then deliver on all the campaign promises.
"I am very confident that he is going to do even more than the much he promised,'' Bello said.
Also expressing opinion, Ganduje declared:  "We have to thank God for bringing our President back. He looks healthy and I believe Nigerians are very happy; so we will continue to pray for him.
"Now he is back he will continue to deliver the goods of democracy, especially as the Acting President (Yemi Osinbajo) did very well.
"Now they are two, so we believe things will move faster.''
Ganduje added that the president's return was a blessing to him and the country.
He said: "When you pray to God to give you something and he has given you that thing you must be very happy and very grateful.
"So we prayed for Allah to bring him in good health. He is now healthy and he has come back to continue his job."
For the Minister of Information, Alhaji Lai Mohammed, Buhari's return had proved all doubting Thomases wrong.
"Well I think that most Nigerians are very excited and it has put to light the untruths, the falsehoods that the president is on life support and cannot come back.
"Even when we were with him last week Saturday and we were able to bring back his voice and his movement, there were still a few doubting Thomases.
"I think this has put a final seal on the issue of the President's health and I can only hope and wish him better, with stronger health to continue the< job he has started,'' Mohammed said.