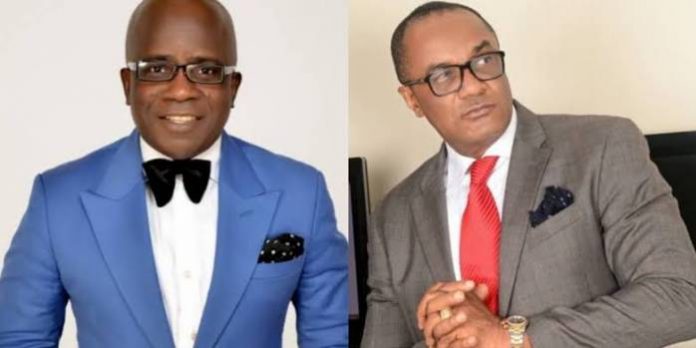 HIS social life was blunted. Perhaps by his reticent disposition. His persona, two dimensional. To a distant public, he was upscale and cool. His manly bearing spoke loud. His onscreen image ironically amplified some idiosyncrasies; heroics, romantic adventures and traits that did not gel with the mortal privacy that eerily define his quiet and lonely life.
Saint Obi, real name, Obinna Nwafor, was shy, almost bordering on timidity and insecurity. He cherished the pleasantly tranquil interractions among a few friends. He would vanish at any outburst that could upset the poise of such small meetings. As he repeatedly told me, he just wanted to live a cool, quiet and fulfilled life.
But, has he lived this cool and fulfilled life he envisioned? I have my doubts.
I tell Saint's story here with painful tears in my eyes; because he was a star, a super star whose life turned out a gleam of irony. Yet, it was this stardom that fetched him his much professed financially strong and powerful wife. And their wedding, that solemn ritual of love would drastically alter the cause of his life and tragically yank him off the creative community that threw him up for the wife to capture and indeed conquer.
Their marriage was at best a dramatization of love. It was quick. He barely told us that he found a wife. Then, the marriage happened. It was something of a mystique, only those involved understood the histrionics that played out. None of us who were his closest pals, who walked with him through the crucible to the crest of his career in Nollywood, none of us was invited.
The distance between us and the guy I admirably called Saint of the Storm had begun. This gulf would widen with each year. We saw him perhaps once in a year after this marriage.
And life actually seemed to have given him a fair shake of the dice. He dressed well, drove big cars and even his skin, in literal lingo, spelt wellness.
READ ALSO: Chinese Court Hands 78-Year-Old U.S. Citizen Life In Prison For Spying
The Saint would be blessed with three beautiful children. But not on one occasion were his friends in Nollywood invited for christening or birthday. We were told that his wife was of the topmost hierachy in telecom giant, MTN. But even if their celebrations were designed to be a rendezvous of the elites of the technocracies that his wife chiefly belonged, you expected that Saint would reach out to a few of his fellow creatives, for even if they would herald his small beginnings, there could be no tinge of shame to it because we all have our journeys and our stories.
And even at that, the actor or cineaste in Nollywood is by no means poor.
But more tragic is the fact that his marriage did not only take away Obinna from his friends, it took him away from Nollywood. Saint stopped acting, absconded from his career and perhaps his calling. It would seem prognostic now. Yes, because I recall leaving my house in Lagos Mainland for his massive office in Lekki, Victoria Island, Lagos. It was about six years ago. There, I demanded to know why my friend abandoned our industry. He told me with his usual shy expressions that he wanted to focus on some other businesses and also to work behind the camera.
Because his visage was unconvincing to me, I told him in stark terms, that whatever his new vision and pursuits, he must not abandon the trade that made him who he was.
It took another three years for Saint to return to his homies. But when he did, some of the deeply disappointed ones sniggered behind him. This was because the simmering rumours of cracks in his marriage had hit home.
And though secretive in his ways, he knew it was time to open up. And he did. "I do not know why my wife's sibblings see me as a gold digger. They confront me, harass and fight me in my own matrimony. And my wife did nothing to stop them. I work hard, I earn my money. I have never depended on my wife," he lamented, eyes blurred with tears.
You could tell he was in deep pain. By the next visit, the Saint returned with a deep cut from knife on his left eye. His