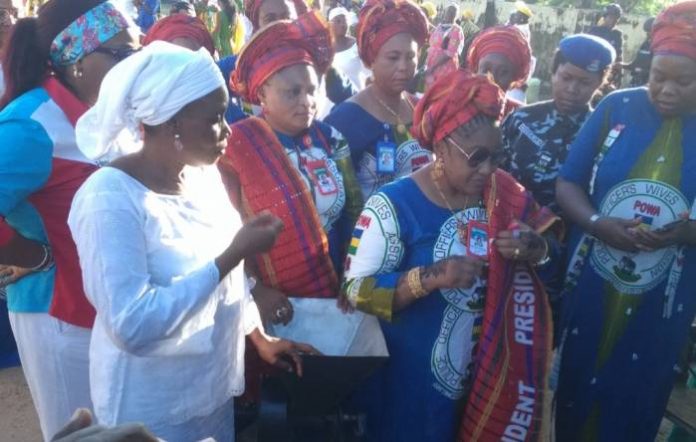 Godiya Ayuba, a widow and mother of two, was one of the beneficiaries when the wife of the Inspector General of Police, Usman Alkali Baba and National President of Police Officers' Wives Association, POWA, Hajiya Hajara Alkali Baba, empowered over 70 wives of fallen officers in Benue state.
The husband had died some few months back leaving her to cater for their two young children. Godiya has no job and no skills but was determined to survive. She had engaged in small business selling palm oil in small scale. You can only imagine her joy an owner of a brand new sewing machine.
On receiving a sewing machine from the wife of the IGP, Mrs Ayuba, who was clad in her white mourning cloth and a baby strapped to her back, broke down in tears. She was latter calmed by Hajia Alkali Baba and other officials who took time to consoled her.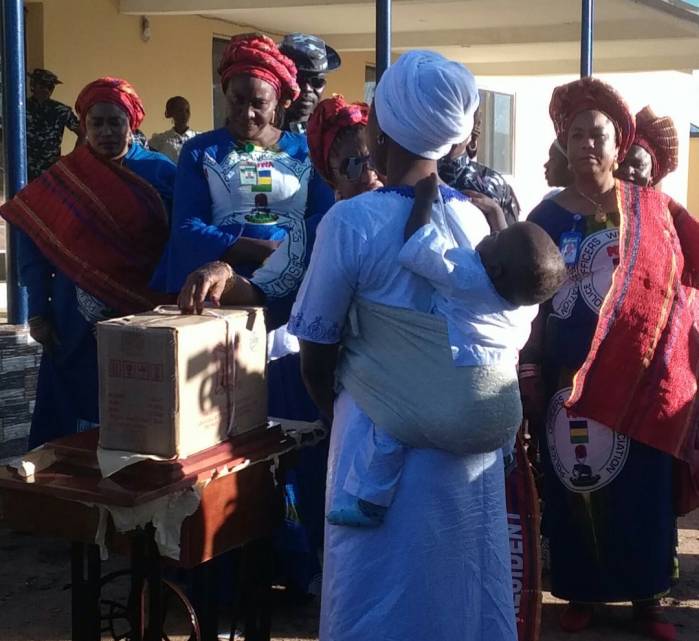 Asked why she was crying, Mrs Ayuba said, "I didn't expect in my life that a thing like this will happen to me. So I was very happy. I will go and learn how to sew so I can put the machine to good use. I thank God and I pray God to bless her.
The POWA President had explained that the empowerment, was part of her three key point agenda which is in the area of education, healthy and welfare.
At the event which held at the Police Officers Mess in Makurdi, the POWA president distributed sewing machines, grinding machines and food items such as bags of rice and cartoons of noodles to assist the women support their families.
Handing over the items, she told the women, particularly, wives of the fallen officers that the assistant under her watch will continue to support them in anyway possible. adding "We want you to know that POWA remembers you and will never abandon you."
Hajia Alkali Baba had also counselled wives of fallen police officers and those still serving to engage in meaningful ventures that would make them resourceful and supportive.
READ ALSO: I Don't Have "A Special Presidential Candidate," Obasanjo Says
She encouraged them eschew gossips and acquire skills to be useful to themselves and their families, just as she urged them to improve their overall wellbeing through constant exercise and good hygiene to enable them stay healthy.
She appreciated her husband, for supporting her to revive POWA nationwide saying with his help, she will replace the Benue gesture in other states of the country.
Other beneficiaries, Msugh Mariam and Ahmed Halima, also expressed appreciation to the POWA President and pray God to bless her and her family.
A widow, Msur Mariam said her husband had died in November 2018 and she has been selling Amara by the road side. "This will help me a lot in taking care of my children. I thank our mother, the wife of the IGP what this gift. May God bless her.
The Next Edition reports that the POWA President has been in Benue for a five-day working visit.