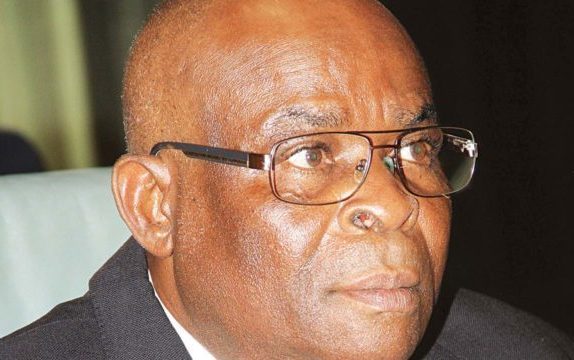 The Code of Conduct Tribunal on Monday heard that the suspended Chief Justice of Nigeria,CJN, submitted two assets declaration forms in one day.
A Senior Investigation Officer of the Code of Conduct Bureau, Mr. James Opala giving evidence in the case of false declaration of assets against the suspended CJN, Walter Onnoghen, said he submitted two assets declaration forms on December 14, 2016.
According to him, one of the forms listed two account numbers with Union Bank in the suspended CJN's name while the other one had seven bank accounts, two kept with Union Bank and five with Standard Chartered Bank.
Opala, who was the first prosecution witness in the suspended CJN's trial was led in evidence by the prosecuting counsel, Mr. Aliyu Umar.
He told the tribunal that the first form which had earlier been admitted as Exhibit 2, covered the period June 8, 2005 when Onnoghen was appointed a Justice of the Supreme Court till November 22, 2014 while the second form marked Exhibit 3 was declared after he assumed office as CJN.
Further in his evidence in chief, Opala said the two forms were received by an official of the bureau, Awal Yakassai, on December 14, 2016.
He confirmed that the two forms had acknowledgement slips bearing the same date.
The Tribunal also admitted as exhibits the bank account documents of the suspended CJN after dismissing the objection by the defence led by Chief Adegboyega Awomolo, SAN.
The documents were said to be Onnoghen's account opening package obtained from the Standard Chartered Bank on January 11, 2019 and March 12, 2019.
READ ALSO: Abuja Court Okays Dismissal of Three Policemen Over $5,000 Bribe
They included a copy of Onnoghen's passport, Supreme Court identity card, a Standard Chartered Bank's document dated January 25, 2009 stating "original document" and other documents.
However, he objected when the prosecuting counsel, Mr. Aliyu Umar, SAN, sought to tender some bank documents of the suspended CJN through Mr. Opala on the grounds that he (Opala) was not the maker of documents.
Awomolo argued that the right person to tender the documents was an officer of the bank.
Responding, the prosecuting counsel held that the witness in the box was competent to tender the documents since they were what his office received in the course of investigation activities.
The tribunal admitted the documents.