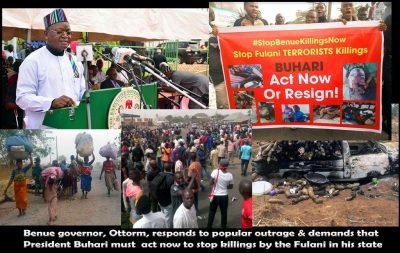 It was a black Sunday indeed for the people of Okokolo community in Agatu Local Government Area of Benue state, as suspected hired militia invaded the community and killed about 21 people, razed down houses and destroyed properties worth millions of naira.
A source from Agatu, Mr. John Ikwulono told our correspondent that some youths from Abugbe community and some hired militia at the early hour of Sunday, June 30, 2019, attacked Okokolo village, killed many persons and set houses ablaze.
Ikwulono said the incident took place when villagers were in their various churches worshiping God.
He regretted that the attack, which he described as barbaric, unwarranted and inhuman, occurred after series of peace meetings have been called.
He stated that a day before the attacks, Agbaduma and Abugbe community signed a peace agreement and promised to remain peaceful and ensure that there would be no further problem among themselves.
Ikwulono confirmed that 21 people were found dead from Okokolo including Mr. Baba Odoje, Shaidu Magaji (a retired military man), Mr. Oloche Obiabo (Kaddo) and Mr. Adehi Imaikwu.
Others who lost their lives were; Mr. Maji Baba, Ngbede Ibrahim (Ejeh-Akpabana son), Bello-Gene-Galih, Mrs. Francis Idu and her two children, among others.
As at the time of writing this report, corpses of some persons were yet to be found.
He also said many other persons, including Mrs. Mary Adakonye a Health Worker, sustained bullet wounds and have been rushed to various hospitals for medical attention.
He called on Benue leaders to bring peace to the area, expressing the fear that the situation, if not properly handled, was capable of destroying the entire Agatu in the nearest future.
When contacted, the Caretaker Chairman, Agatu LGA, Usman Alilu said he has directed the soldiers to the area to fish out the perpetrators of the evil and arrest them.
The State Chairman of the Peoples Democratic Party, PDP, John Ngbede, in a telephone conversation expressed bitterness about the unfortunate situation saying he had informed the Caretaker Chairman to ensure that the soldiers picked everyone involved in the attack.
The Police Public Relations Officer, PPRO, Sewuese Catherine Anene confirmed the incident and said that only 10 persons were killed.
The people of Okokolo and Abugbe communities have been at loggerheads over ownership of a fishing pond. Our correspondent gathered that the Abugbe community took Okokolo community to court, but while the case is still on going, youths from Abugbe community still go to fish in the contested pond.