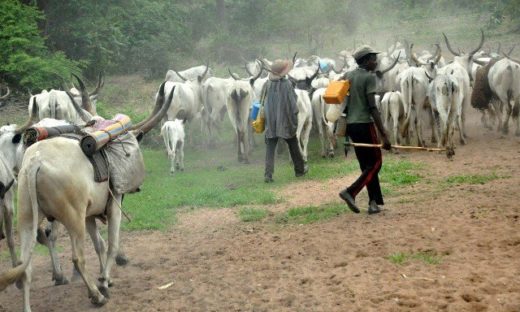 Gunmen suspected to be herdsmen has reportedly attacked Igama community in Okpokwu Local Government area of Benue State killing about 11 persons and injuring many others.
A source from the area told journalists that the attackers stormed the community in a guerilla style in the early hours of Sunday, killed people and burnt down the entire buildings in the community.
The source who didn't want to be named said the attackers murdered the youths they came across and allowed the elderly, women and children to escape unhurt.
"The attackers are Fulani herdsmen. They stormed the community in a commando manner between 4am and 6am this morning.
"They killed some of the youths in the village and spared the elderly, children and women as they allowed them to run away."
The chairman of Okpokwu local government, Mrs Amina Audu who confirmed the report disclosed that they had recovered nine corpses, so far, from the scene.
"I had the report that the Fulani herders stormed Igama community between 4:00 a.m and 6:00a.m today.
READ ALSO: Names Of Train Passengers Released By Terrorists
"As I am talking to you now, I am in the police station at Okpoga. Three corpses have been brought from the community and people from the area just told me that they are on their way coming with another six corpses to be taken to the mortuary.
"The attackers were said to have left women, children and the elderly to run away but attacked and killed youths in the community. They burnt down all the houses in the community."
On her part, Police Public Relations Officer, PPRO, SP Catherine Anene, also confirmed the attack but said that the command was yet to get details.
Anene said, "The incident is confirmed but the Command is yet to receive details from officers who went to the scene," Anene said.
Meanwhile, the Senator representing Benue South Senatorial District, Mr. Abba Moro, has condemned, in strong terms, the attack and killing of innocent people in the Edumoga community.
Moro said "The attack on Okporikpo and Igama communities of Edumoga LG in the early hours of today, June 12, 2022, leading to wanton destruction of lives and property, stands condemned.
"I sympathise with the victims of the barbaric attack and call on security agents to go after and bring to book the perpetrators of the heinous crime."