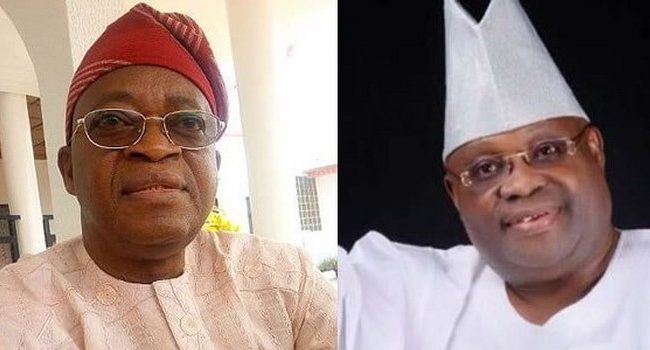 Candidate of the Peoples Democratic Party, PDP, in Osun governorship election, Sen. Ademola Adeleke, has congratulated Gov. Gboyega Oyetola on his victory at the Supreme Court.
In a statement issued on Friday after the ruling, Adeleke said he accepted the decision of court, irrespective of whatever misgivings he may have.
The congratulatory message issued in Osogbo was signed by his spokesperson, Olawale Rasheed.
The Supreme Court in a split judgment of five to two had earlier on Friday dismissed his appeal against Oyetola's victory at the poll.
He said: "As a democrat and law abiding citizen, I accept the ruling no matter my misgivings.
"I wish Governor Oyetola well in the governance of Osun State."
He expressed his gratitude and appreciation to his supporters as well as leaders and members of the party for their unwavering support throughout the duration of the case.
"In all circumstances, we must thank God Almighty. We gallantly fought a good fight in pursuance of a democratic cause. The ideals we fought for live on.
"Our ambition was never a do-or die-affair.
" We aspired to serve and deliver democratic dividends to the people of Osun State.
"Our ambition was altruistic. We wish Governor Oyetola the best in governance of the state," Adeleke said.