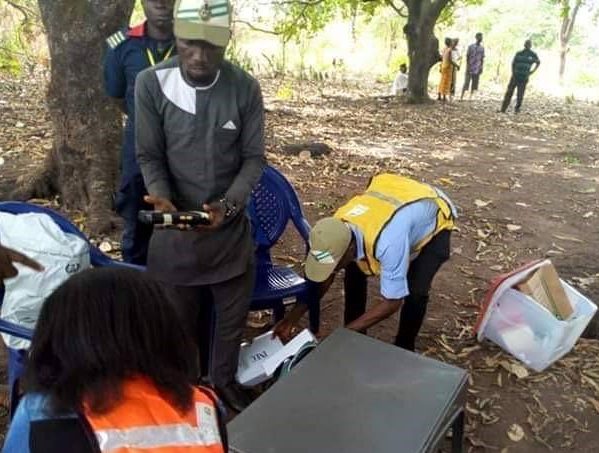 Some political thugs have reportedly disrupted voting in Tse Akough polling unit (PU) 012, Yaav ward in Kwande local Government area of Benue State.
Our correspondent gathered that the thugs stormed the polling unit in a commando style, smashed the ballot box into pieces and made away with other electoral materials, including the Polling Unit register.
The thugs allegedly assaulted some agents of opposition party at the polling unit leaving the voters who had come out to vote running in different directions for their dear lives.
It was said that angry youths in the area came out and went after the thugs and were able to recover some of the materials but the polling unit register was still missing at the time of this report.
It was also gathered that electoral materials for Azebdeshi council Ward of Ukum Local Government area was allegedly burnt by some political thugs.
In Konshisha Local Government area, 10 empty ballot boxes disappeared mysteriously from the collation center early hours of Saturday and had to be replaced by the Independent National Electoral Commission, INEC, before voting could start.
READ ALSO: Supplementary Polls: Journalists Escape Lynching in Kano
Resident Electoral Commissioner in charge of Kwara State, Garba Attahiru who was in the state alongside his Niger counterpart to assist the Benue Rec, Nentawe Yilwatda told newsmen in Konshisha that INEC had put measures in place to ensure that peoples votes counted.
He identified late arrival of polling staff in Konshisha but noted that election was going on smoothly and assured that in the rerun election, peoples votes would count and the entire election would be credible.
It was observed that despite restrictions on both vehicular and human movement in all parts of the state, vehicles and people moved around though with caution just as some shops were also open for business.
However, all markets in Makurdi, the state capital were closed while in areas like Otukpo, Okpokwu, markets were open with people doing their legitimate businesses.
Also, in most polling units across the state, voting was going on smoothly at the time of filling this report.
There was also heavy security presence across the nooks and crannies of the state, a development which allegedly caused voter apathy in some areas.