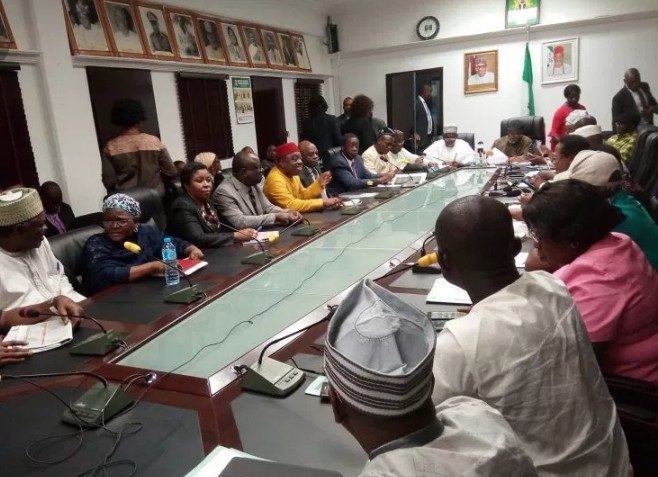 A meeting between the Academic Staff Union of Universities, ASUU, and a Federal Government delegation will hold today (November 15) to seek ways of ending the ongoing ASUU strike.
President of the union, Prof. Biodun Ogunyemi, made this known to journalists in Abuja on Wednesday.
According to him, the meeting with the Federal Government scheduled to commence by 1p.m was at the instance of the Minister of Education, Adamu Adamu.
Recall that ASUU had embarked on an indefinite Strike on November 5, citing poor funding of the universities as reason for the strike.
READ ALSO: Minimum Wage: N30, 000 impracticable – Governors
According to Ogunyemi, the N200 billion which the Federal Government released in September 2018 is not an issue rather the money came almost a year late as it ought to have been released in October 2017 as part of the 2013 agreement.
He explained: "It would be recalled that the Federal Government had agreed to inject N1.3 trillion to fund universities at N 220 billion yearly for five years. If government fails to fund public universities the situation on campuses may degenerate, worse than the already poor quality teaching and learning environment.''
He said the 'No work no pay' policy by the government would not affect the lecturers as industrial action was legal in the Nigerian labour law and international conventions, which Nigeria is signatory.
The ASUU President expressed the hope that the meeting would afford them the opportunity to resolve the issues at stake and not to continue to raise alarm that past administrations made bogus agreements with the university lecturers.
ASUU is also demanding: that the Federal Government should nominate another chairman of the government renegotiating team of the 2009 ASUU/Federal Government Agreement.
ASUU had rejected Dr Wale Babalakin as leader of the government's renegotiating team.