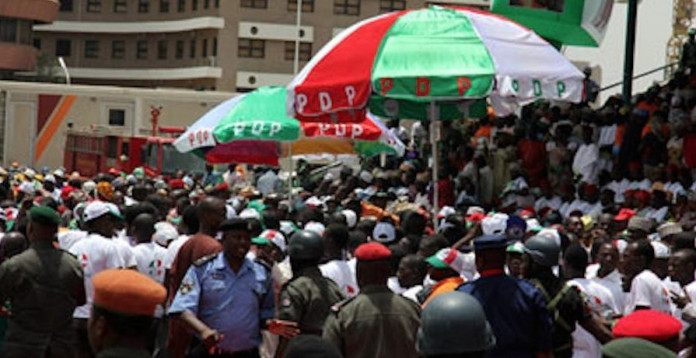 Respite has come the way of troubled Peoples Democratic Party (PDP) as a major splinter group, Fresh PDP, decided to mend fences and close ranks with the party.
Members of the Fresh PDP on Saturday cancelled plans to inaugurate its parallel National Working Committee (NWC) on Monday, January 22.
It has also decided to recognise and support the National Chairman of the party, Prince Uche Secondus.
The announcement was made after a truce was reached at the residence of former National Chairman of PDP, Dr Okwesilieze Nwodo, in Abuja.
The members of the group, led by Chief Olukayode Akindele, also dissolved splinter group to make the party remain united.
Speaking at the end of the closed door meeting, Akindele, said they were collapsing into the main NWC of the party after receiving words of assurance from PDP leaders.
He said that they were forced to form Fresh PDP because of acts of impunity in the party.
"We have received assurances from our leaders here that this will be addressed.
READ ALSO: Gunmen storm hotel, many casualties feared
"While today marks the end of Fresh PDP, it brings a PDP that is caring and wants to address issues that may affect it in the primaries.
"We have been having these meetings for a long time. An executive meeting was held at5 a.m. today (Saturday) in the interest of the nation and the party so that we won't have a parallel NWC come Monday.
"This group has been cancelled. We have surrendered the list to our leaders here and we want to assure gentlemen of the press that this is the best thing that can happen to PDP."
Nwodo disclosed that no conditions were given before the dissolution of the Fresh PDP, whom he described as made of enthusiastic youths needed by the party ahead of 2019.
He added that the reconciliatory process enjoyed the backing of the national leadership of the party as well as that of the Board of Trustees (BoT).
Nwodo described the development as the best gift PDP could give Nigerians.
"A lot of people thought our house was divided and was about to cascade down.
 "But we want to assure you that by God's mercy and internal reconciliation capacity of the PDP, the cracks that you noticed have been completely sealed off.
"Today the Fresh PDP has collapsed and all its members have reintegrated into the mainstream of the PDP.
"We have a united PDP, poised ready to reclaim power," he said.
The former national leader added that the defection of PDP members has come to an end as a result of the reconciliation.
The PDP National Publicity Secretary, Mr. Kola Ologbondiyan, said what was perceived to be a crisis in the party was over.
"PDP has become one all over again."