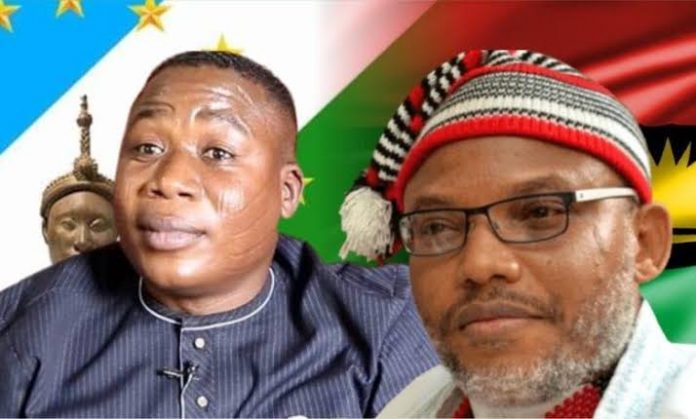 Barely two weeks after Benue State Governor, Samuel Ortom, urged the federal government to release Nnamdi Kanu, he has also called on the Federal government to stop harassing Sunday Igboho.
Ortom who made this call while briefing journalists in Government House, Makurdi, on Monday, said his call for the release of Kanu during his visit to United Kingdom and United States of America was because Kanu and Igboho are freedom fighters and not bandits.
Ortom, who noted that the real bandits are out on the streets causing mayhem when they should be the ones behind bars, said he may likely become a freedom fighter after he leaves office in 2023 and cautioned that when that happens, government should not disturb him.
"I also called for the release of Nnamidi Kanu and Sunday Igboho who are freedom fighters while they give amnesty to bandits. I do this because if later I become freedom fighter for my people they should not disturb me."
Speaking on insecurity in the country, Ortom, who just returned from two weeks work leave abroad, said he saw it as a duty to visit the international community to correct the wrong narratives that the insecurity crisis in Benue State and other places in the country was caused by climate change and other environmental challenges.
He said he was able to tell them the real issues which is that "the terrorist Fulanis who are coming from Niger, Chad, Ghana, Senagal, Mauritania, Libya and others, are coming here for occupational purposes."
READ ALSO: Atiku Challenges Tinubu To One Hour TV Interview
He noted that in the last five years, the terrorist herdsmen have killed innocent Benue people, raped girls, women and men just as their activities have displaced over 2million people in the state alone.
"So, it is an unfortunate thing when you begin to blame climate change. I went there to correct the narratives and they were amazed after I gave them facts and figures of the evil perpetrated here in the country."
The governor, who described the trending video on social media where bandits threatened to kidnap President Muhammad Buhari as the worst of security problem in the country, expressed worry that Nigeria may soon become like Afghanistan if nothing is done to nip insecurity in the bud.
While using the president to rise to the responsibility of securing the nation, Ortom said, "Mr president, if you are listening to me, I want to say that you are not doing well. You have violated the oath of office you took. Nigerians are in pains, they are suffering. Do something."