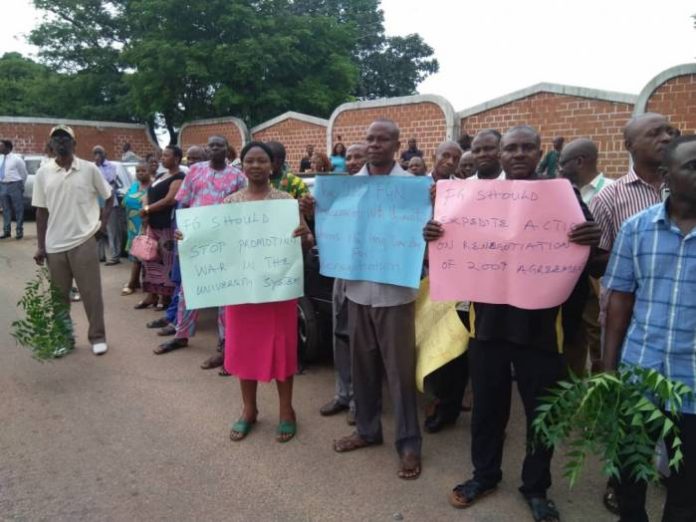 Leaders and members of Joint Action Committee of non teaching staff of the former Federal University of Agriculture, Makurdi now Joseph Sarwuan Tarka University, JSTU has appealed to the Federal government to address the payment of earned allowance to non teaching staff.
The unions have asked the federal government to do the needful before Monday, August 19, or they will embark on a five day warning strike.
Chairman of Non Accademic Staff of University, NASU, Girgi Moses Saa, made this call, today, at the entrance of the school gate in Makurdi when he led his members on a peaceful protest to demand justice over the disparity of payment of earned allowance to them.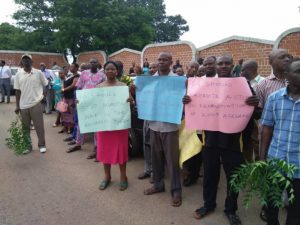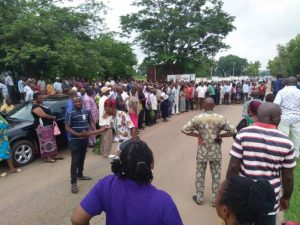 Girgi who also doubles as the acting chairman of the Joint Action Committee on Non Teaching Staff led other union members in solidarity songs while carrying placards with inscriptions, "FG Should Stop Promoting War In The Univerity System", "FG, Expedite Action On Renegotiation of 2009 Agreement" among others.
The union members also demanded the reinstatement of 28 teachers of the staff school who were relieved from work since 2015 inspite of court judgement in their favour.
They called on government to take swift action on their demands to avoid disharmony between SSANU, NASU and the Acedmic staff.