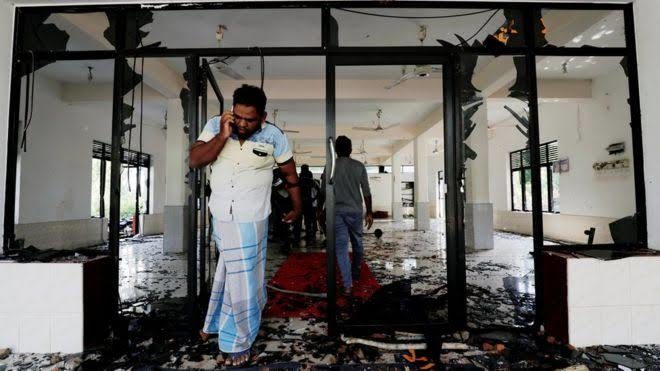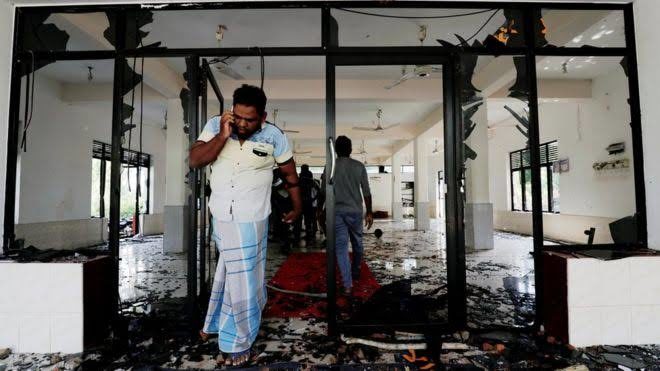 Sri Lanka has partially lifted an overnight curfew imposed nationwide after the worst bout of anti-Muslim violence since the deadly Easter Sunday bombings.
Mosques and Muslim-owned shops have been vandalised or set on fire, and one Muslim man has been slashed to death.
The curfew will remain in the North-Western province until further notice, police said.
In several towns, police fired into the air and used tear gas to disperse mobs.
Tensions have been high since Islamist militants attacked churches and hotels three weeks ago on Easter Sunday, killing more than 250 people.
In a televised address, Police Chief Chandana Wickramaratne warned that officers would respond to rioters with maximum force.
Prime Minister Ranil Wickremesinghe also appealed for calm in the early hours of Monday, saying the current unrest was hampering the investigation into last month's attacks.
Muslims make up nearly 10% of Sri Lanka's 22 million people, who are predominantly Sinhalese Buddhists. Mob violence in central Sri Lanka targeting Muslim communities last March prompted the government to declare a state of emergency.
The unrest was centred on three districts north of the capital, Colombo.
In the north-western town of Kiniyama, hundreds of people stormed a mosque, destroying windows and doors and burning Korans, according to witnesses.
The attack was triggered by a group of people demanding a search of the building after soldiers inspected a lake nearby looking for weapons, Reuters news agency reports.
In the Catholic-majority town of Chilaw, Muslim-owned shops and mosques were attacked after a dispute that started on Facebook, police said.
READ ALSO: UN Condemns Deadly Attack on Burkina Faso Church
A 38-year-old Muslim businessman identified as the author of the post that sparked the violence was arrested.
A man died from stab wounds after a mob attacked his business in Puttalam District, also in Sri Lanka's north-west.
"Mobs had attacked him with sharp weapons at his carpentry workshop," a police official told AFP news agency. "This is the first death from the riots."
Incidents were also reported in the town of Hettipola, where at least three shops were reportedly torched.
The violence has prompted concern from the UN. The global body's special advisers on genocide prevention and the responsibility to protect called on the government to make clear "it will not tolerate the spread of prejudice and hate among groups within its population."
"Sri Lanka has a pluralistic society. To be a Sri Lankan is to be a Buddhist, to be Hindu, to be a Muslim, to be a Christian," they said.
The government says that security forces have restored calm to streets in the areas affected by violence and insist officers are preventing revenge attacks on Muslims.