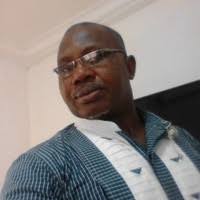 They belong to different generations, Etta Egbe was not born when Teslim Olawale Balogun, better known as Thunder, scared goalkeepers with terrific shots.One account said the striker sent a goalie to the great beyond in Sierra Leone. The former was forced to change course when his ears were filled with stories of Balogun's lethal moves.
Egbe began as a goalkeeper and won trophies with all the primary schools he attended. He moved from St. Peter's Ogbete, Enugu to St. George's Falomo, Lagos and ended up at Government Primary School, Barracks Road, Calabar. The story changed when the keeper became a student of Hope Waddell Training Institute, Calabar. One of his old school mates made sure the boy went back to the goal post.
"I was originally a goalkeeper but wanted to deviate to defending after my primary education because I was told of players like Thunder Balogun whose shots could destroy the keeper, the net and goal post. I needed to stay alive so I opted rather to prevent strikers from scoring," Egbe told me.
LThe day of reckoning came. "In 1974, Hope Waddell faced West African Peoples Institute in an Under -13 competition. We had a good team but no goalkeeper, at all. My primary school mate went behind to tell our coach that I was a very good goalkeeper. I was punished and sent to the post. I put up a five -star performance in the match, we won and that began my goalkeeping success story." he added.
Straight from School, the keeper joined Calabar Rovers and from there to Rubber Board Benin. It did not take long for national team invitation to come. Former Green Eagles coach, Tihomir Jelislavic [Father Tiko] who had taken charge of the Flying Eagles extended a call up.
During the Fifth National Sports Festival, Bendel '81, Egbe was in goal for the Bendel team. The Bendelites had lost the soccer gold to Imo State Trojans , led by Kelechi 'Caterpillar' Emeteole in the previous edition, Oluyole '79. They had in goal, Fitting Amenawon who could not stop Godwin Agbarakwe from performing magic with goals.
From the Flying Eagles, Egbe moved up to the Green Eagles. He was part of the team to Ethiopia for the Economic Commission of Africa Championships in 1983. Egbe played in the 2-0 defeat of Libya in Addis Ababa. The next assignment was the President's Cup in South Korea in what turned out to be a dramatic outing with Nigeria struggling to raise a full squad.
The Eagles, playing in Group A, pulled a string of draws : Goalless with Thailand, 1-1 against USA, 2-2 with Genoa, lost 1-0 to the hosts and defeated Indonesia 2-1. Egbe still talks about the draw with Genoa because Italy were World Cup champions in 1982 and it was quite an experience to play against a team from the country. Nigeria finished third in the group leaving South Korea and the United Staes to pick semi final tickets.
What happened was that "Mike Emenalo and Charles Kanu left in Anchorage Alaska [ the duo moved to further their education ] before the team departed to Seoul. we had an incomplete squad and Coach Festus Onigbinde had to re-strategize." Egbe said. Onigbinde altered his plans by playing keeper Best Ogedegbe as a striker to support Nnamdi 'Camel' Nwokocha who flew in from Clemson University, United States.
READ ALSO: SPORT SFLAKES: ATUEGBU FLOORED ATUEGBU BEFORE ODIYE
That sounded like Thunder Balogun's trip with the UK Tourists in 1949. The Nigerians who were the first African team to play in Britain, looked funny as they wore no cleats against English sides fully kitted in boots.
Egbe changed clubs but not as much as Balogun. The goalie joined El Kanemi Warriors, Maiduguri from Rubber Board and quit after spending time at Iwuanyanwu National, Owerri. The goal getter moved from Thunder, Lagos [that's where he got the name] to Apapa Bombers then joined Marine Athletics and the journey continued to UAC, Railways, Jos, Pan Bank, Dynamos, SCOA, and Ibadan Lions. Balogun later played in England as a professional for Peterborough [1955-56], Skegness Town[1956], Queen's Park Rangers [1956-1957] and Holbeach United [1957-1958].
Egbe did not have his father's blessing until Father Tiko's invitation. "My dad, a senior police officer, tried to discourage me. He beat, intimidated and denied me food for disobedience. However, he gave in when he saw my name on Nigeria Television Authoriry [NTA] news as an invitee to the Flying Eagles camp."
Like father, like son. Although Egbe met his wife , Anthonia, through soccer, none of their five children plays. His first son is a computer specialist. The girl is an accountant. Another boy is in Medical school at Ebonyi State University. " None of my children is playing football. I gave my family's football contribution to Nigeria let them contribute in other endeavours."
Balogun had a cricketer father and a mother who played ping pong. His children also followed dad's footsteps. One of them, Tunde, would have played big time for the Eagles if he did not leave for the United States for further studies. He joined contemporaries, Dominic Ezeani, Keneth Ilodigwe, Muyiwa Sanya, Sunday Izevbigie and Yomi Bamiro.
Egbe is presently, Technical Director of Rovers and still remembers the good old days when the team was one of the best in NIgeria. Those were the years of Egan Adat, Ben 'Zico' Nwosu, Isong Isang, the University of Benin trained pharmacist, Uwem Ekarika and much later, Etim Esin. Rovers never went international. They would have been part of the WAFU Cup in 1986 but Nigeria pulled out in 1985 after Africa Sports fans attacked Shooting Stars in Abidjan. That was how two time champions , New Nigeria Bank [NNB] , Benin lost the opportunity of being the first Nigerian team to win the Eyadema Cup for keeps. Insurance achieved that in 1995.
Rating goalkeepers was not an easy one for the former goalie who also trained Dream Team goalies. Hear him : "Nigeria had very wonderful naturally talented goalkeepers in my days. It is difficult to pick the best because some good keepers had very poor coverage from defenders and at the end, the goalies were held responsible."
Thank heavens none of Egbe's contemporaries saw the lightening that followed Thunder Balogun's killer shots. He was not called Baba Ball for nothing. Some knew him as Balinga. We should also praise shot stoppers like Sam 'Magnet' Ibiam, Isaac Akioye, Olu Onagoruwa, Carl 'Gentleman' O'Dwyer, Father Carr, Walter Okala and Clement Andre who were not executed by Balogun's thunder.