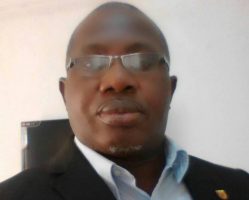 Professor Sadiq Abdullahi was one of the kings of Nigerian tennis courts in the 1980s. In those good old days, there were as many tournaments as there were stars. Top players from around the globe  were visible in the country.
Abdullahi is a complete homeboy and is driving a huge project to bring tennis back to life. Then Michael Mmoh happened. Suddenly that feeling of yore when Nduka Odizor, David Imonitie, Tony Mmoh and Sadiq reigned, crept back.
Michael Mmoh was largely unknown in Nigeria until he sent Number 12 seed, Alexander Zverev of Germany packing in the Second Round of the Australian Open.
Mmoh is the son of Tony Mmoh. His spectacular show in Melbourne brought hope alive. Sadiq's Tennis Vision 2035 is about to take off and the University of Florida University teacher is not looking back.
Tennis Vision 2035 is all about taking the game from the grassroots to the top. It is a programme built around education with the aim of pushing out future stars. Sadiq is partnering with former soccer international, Chief Segun Odegbami.
Honestly, Mmoh has come out at the right time. Soccer loving Nigerians have given up on the Super Eagles whose best has sent many heart attack cases to the hospital bed.
Anything outside soccer is good news. Tobi Amusan has become the face of sports, after her splendid run at the 2022 World Athletics Championships in Eugene, Oregon. The first Nigerian champion in Athletics also retained her Commonwealth 400 metres Hurdles gold.
I did not know much about Tony Mmoh until Sadiq reminded me last year after I did a story of Nigerians representing other countries at the Qatar 2022 World Cup.
The veteran tennis star said: "In other sports like Tennis, Michael Mmoh had the opportunity to represent Saudi Arabia and Nigeria but chose USA. This is an area we need to explore. It will help our overall efforts to raise the standard of sports in our country."
Sadiq has been in contact with government and politicians. He believes sports should be used to keep the younger generation away from temptation especially now that insecurity has become a colossal threat.
In soccer, it is easy to identify with Austin Okocha, Nwankwo Kanu, Peter Rufai and Daniel Amokachi. Tennis does not have that luxury. Nduka Odizor may be largely unknown because his Wimbledon show happened forty years ago.
Odizor, proudly called The Duke, got to the quarter finals of Wimbledon in 1983. He made headlines for eliminating Number 4 seed Guillermo Villas of Argentina. In 1984, the Nigerian was ranked No. 52 in the world. Till date, no compatriot has done better than that.
Sadiq was at the Seoul '88 Olympic Games and 1989 American Open. Mmoh Senior took part in the US Open in 1985, Wimbledon, 1985 and French Open in 1988.
I wondered if Tony Mmoh ever graced the Australian Open as a player. Sadiq was there to convince me that Mmoh played in the men's double with Odizor.
Michael Mmoh's mother, Geraldine O Reilly was born in Ireland but is also Australian. The Aussie luck is following the young man. He had beaten a different Zverev, (Mischa) at the Brisbane International tournament in 2018, in his first  career ATP appearance.
At the 2020 Australian Open, Mmoh recorded his first main draw victory. In 2021, the man that beat him, Rafael Nadal, is one of the faces of modern tennis, so there was everything to be proud of.
 Tony Mmoh was ranked 105 in the world. His son is ranked 107 but has more active years ahead. Chief Benson Ezeibe, a popular Tennis sponsor believes the younger Mmoh will hit the 40 bracket in future.
Mmoh Senior played good football, enough to be invited by the Socceroos. He chose Tennis and that gave him a wife in Riyadh, Saudi Arabia. There, Michael was born in 1998.
I am sure he will follow his dad back to Enugu someday. His presence will lift Sadiq's Tennis Vision 2035. The younger ones will use him as reference point any time they train.
Tennis was so popular in Nigeria in the Odizor- Mmoh- Sadiq years. Before them, we saw names like Thompson Onibokun, Lawrence Awopegba, Yemisi Allan, Gabriel Odudu and Elizabeth Ekong.
The next decade came with Sule Ladipo, Yakubu Suleiman, Paul Areh, Gabriel Otu, Rotimi Jegede, Nnamdi Ehirim, Clara
Udofia, Osaro Amadin and the Okpala Sisters, Tanya and Katia.
Tournaments were legion. One could move from Ogbe Hard Court to Dala Hard Court. NICON would be on and players would be preparing for the next one, maybe, Gulder, Okada or Unipetrol.
There were sponsors. Unipetrol under Alhaji Yusuf Ali was Tennis friendly and even after him the ties continued. Udofia was sponsored to Junior Wimbledon in 1994.
 She was sent to Nick Bolletieri Academy for four months through an agreement between Godwin Kienka Academy and Prince, a manufacturing company based in the United States.
Nick Bolletieri Academy prepared stars like Monica Seles, Jim Courier and Andre Agassi for the future. Kienka had upcoming winners under his care.
Multi millionaires supported Tennis. Lord Rumens, real name Alhaji Olatunji Ajisomo Alabi, Alhaji Lateef Adejumo,  and Chief Molade Okoya Thomas were readily available to support the stars.
I had friends who told fascinating stories about tennis. Banji Ola, Emma Molokwu, Onochie Anibeze, Tijani Ahmed Shuaibu and I guess, Chima Okoro.
Banji bought a Datsun Coupe and drove it to Benin in 1992. It was during the Okada Tourney. He came back with a cassette of beautiful Spanish songs. It was a gift from Odizor. One of the stars in Okada Town was Paul Haarhuis.
In 1994, there was the Vibon Veetee Championships sponsored by Chief Vivi Oruche, the big merchant behind Yago wine. I recall a chat with him in his Opebi Ikeja office where he told me that he played soccer but tennis had become first love.
More Mmohs are coming. Prof. Sadiq Abdullahi is homeward bound. Charity begins at home. Meanwhile our top girl, Oyinlomo Quadre has joined the lecturer at Florida International University.
Arthur Ashe visited Nigeria in 1976. Sadiq was one of the boys who picked his balls. Venus and Serena Williams came around. They had a sister named Yetunde. There is something here for good. Tennis Vision 2035 will make things happen, again.