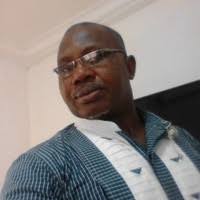 If you want to outpace others and get the desired result, please visit Nigeria. Karim Adeyemi made all the difference for Borussia Dortmund when his goal diminished Chelsea in a European Champions League game recently.
Adeyemi marketed Nigeria to the world through his endorsement of fufu as the power behind his speed.
"I eat a lot of African foods," he said. When probed further to name the particular dish, he pronounced fufu in typical Naija accent.
This is quite interesting. Adeyemi plays for the German national team. Born in Munich to a Nigerian father and a Rumanian mother, he has not forgotten his dad's roots.
The 21- year – old was in Ibadan during Yuletide and has a soccer club, Adeyemi FC. The team was engaged in a friendly with Shooting Stars.
Some other African stars would name different European cuisines as their favourite. Didier Drogba loves macaroni and cheese. One notable exception is Mario Balotelli who savours fufu and jollof rice.
This fufu and speed theory took me back to the all conquering Enugu Rangers of the 1970s. They were rugged and had sprinters who could win medals in athletics. Fufu was also their favourite.
In 1977, the Rangers quartet of Sam Onyeaka, Emma Merenini, Emeka Onyedika and Charles Adimora challenged the national relay team to a race. The players and athletes were training at the National Stadium, Lagos.
Fans watched as Rangers beat Nigeria to win the race. What many did not know was that Merenini, as a student of Holy Ghost College, Owerri was one of the best sprinters in the old East Central State.
Onyeaka and Onyedika were both nicknamed 404 for their speed. They also bore Ghanaian nicknames. The former was known as Achimota, the latter Owusu. Adimora chose Wagner.
Speed is a selling point in soccer. It was what distinguished Segun Odegbami from Thompson Usiyen. Green Eagles coach, Father Tiko had the two powerful strikers in his team and looked for a way to play them at the same time.
Tiko discovered that although Usiyen netted as many goals as Odegbami, he did not have the pace of Mathematical. The manager moved Odegbami to the right wing and retained Usiyen as top striker.
That combination was lethal. Odegbami could run rings round defenders and send them panting as he fired the ball into their eighteen were Usiyen was waiting to bury it.
The Green Eagles were good for gold at the Montreal '76 Olympic Games. They arrived the Games Village and just before the opening ceremony, Nigeria joined an African boycott and ordered the contingent home.
Usiyen would go for further studies in the United States in 1977 and could not find his old form thereafter. That created a vacuum which also affected Odegbami who had to lay the dual role of winger and goal poacher.
At Holy Ghost College, Merenini also licked soup prepared with dried fish called mangala. Okey Isima and Titus Okere equally relied on the mangala delicacy which was recommended by their coach, Sunny ' Soccer' Aguta.
The Federal Government should honour Adeyemi for promoting Nigeria more than the ministry of Culture and Tourism, which of course, is headed by Information minister, Lai Mohammed.
I would want to know if lack of fufu is affecting Super Eagles of late. They could not qualify for the Qatar 2022 World Cup and did not fly beyond the second round of the Cameroon 2002 African Nations Cup.
In the past, Nigerian dishes were prepared for our representatives in any competition and they did not disappoint.
When Super Eagles defeated Red Devils of Congo 1-0 in Pointe Noire, on the way to their first World Cup, USA '94, Congolese fans went for the head of the Nigerian woman who cooked for the Stephen Keshi led team.
That arrangement was with the backing of the Nigerian Ambassador to Congo, George Adetuberu. The angry mob vandalised his official car.
READ ALSO: NASS Elections: Labour Party Condemns INEC's Omission Of Party On Ballot Papers In Lagos
Enyimba won the CAF Champions League in Ismailia, Egypt twenty years ago. They abandoned the hotel and food prepared by the hosts.
As Salam Hotel restaurant was infested with flies. The Nigerian Embassy kept Enyimba in a different hotel while other members of the contingent opted for As Salam Hotel. I was in Egypt and Nigerian food worked.
Lobi Bank were unlucky to have lost the WAFU Cup in 1991 to Africa Sports in Abidjan. The Makurdi side stayed at Ibis Hotel in the Plateux area.
Lobi Bank were unlucky to have lost the WAFU Cup in 1991 to Africa Sports in Abidjan. The Makurdi side stayed at Ibis Hotel in the Plateux area.
The Nigerian Embassy under Jonathan Coker made sure Lobi enjoyed made in Nigeria meals. They did not eat the food prepared by Ibis. I was in that hotel too and it was to my advantage.
Instead of spending money on meals, leader of delegation Commissioner of Police S.K. Momodu, known as Man Mountain when he played for the Police Machine team and Coach Bernard Ogbe made sure my bill was part of the obligation of the Ivorian FA to their guests. That was to confuse the hosts that Lobi ate at Ibis.
Adeyemi is flying higher when the Eagles cannot fly at all. His fufu magic is working. I love the way he says handball with the balls of fufu.
Superman Killwe Nwachukwu was proud to announce in London long ago that his power lay in the fufu he ate. Today Adeyemi is saying exactly the same thing.
Those who are looking for things to export should try this fufu business. Adeyemi has cleared the road. There will be waivers, this I can confirm.
Adeyemi's namesake, Karim Benzema loves couscous. Lionel Messi's favourite is Milanesa Napolitana. Ronaldo prefers Bacalbau a bras. Arjen Robben is a sushi eater.
Sushi is a Japanese delicacy made of raw fish. I tried it in 2002. A Canadian teacher and her British friend convinced me to do it. I took a train from Yodoyabashi, Yokohama to Kanazawa Bunko just for sushi and it was not a bad experience.
Emmanuel Amuneke missed his mother's ofe Owere so much when he sojourned in Europe as a footballer. Super Falcons defender, Ashley Plumtree will do anything to have moi moi while Alex Iwobi dances to beans and plantain orchestra.
Adeyemi was at the Qatar 2022 World Cup with Germany but did not enjoy playing time because the 2014 champions could not go beyond the group stage. Team mate, Jamal Musiala also has Nigerian blood.
Adeyemi won the European Under 21 Championships with Germany in 2021. He joined Dortmund from Austrian side, Red Bull Salzburg and was top scorer in the Austrian league, 2021/2022 season.
Adeyemi scored for Germany in his debut against Armenia on September 5, 2021. Expect more goals from the fufu eating striker who loves Nigeria as much as he does Rumania and Germany.