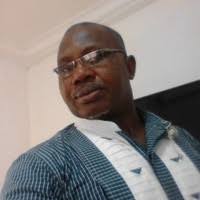 Godwin Achebe got lucky in 1959 when leadership fell on his shoulders as Captain of the Nigerian National soccer team, then known as Red Devils. Substantive skipper, Dan Anyiam, was ruled out of the game because he was considered above amateur status. Vice captain, David Okoroji, was down with injury.
That was how Achebe, a teenager, led his country into battle against Black Stars of Ghana in a Tokyo '60 Olympic qualifier decided at the Liberty Stadium Ibadan. The hosts won 3-1. His debut was in 1958 and foes were the Black Stars.
Luke Okpala who became popular with the nickname Bukana or Jazz Bukana was at the time a student of Notre Damme ( later Abatete High) School. Achebe played for Lagos Railways. By 1965, Okpala and Achebe shone with Electricity Corporation of Nigeria (ECN).
I met Bukana at the Nnamdi Azikiwe Stadium, Enugu in 1997 and he was a sad man, eyes filled with tears. It was unusual for a Biafran veteran to break down. This one was in public. This disturbed me for we chatted freely seven years earlier, in the same town.
" If you see Achebe, you'll have mercy on him," Okpala told me . "Although he is now Deputy Director of Sports in Anambra State, things are not easy with him." Bukana was Secretary of the Anambra Football Association but was in Enugu to watch Rangers.
" Do you know that once he came to the Nnamdi Azikiwe Stadium to watch Rangers and was turned back at the gate. Our first captain who also rose to coach Rangers. Since then he has withdrawn to Anambra," Okpala said.
Achebe was the first Nigerian coach to win a continental soccer trophy when he led the Flying Antelopes to African Winners Cup triumph in 1977.  He took the Coal City team to National League glory at the end of the same season.
Achebe was non playing captain when the Green Eagles won gold at the Lagos '73 All Africa Games. He was a member of the first Eagles team to play at the African Nations Cup, Ghana '63. Also in that team captained by Asuquo Ekpe, were Chukwuma Igweonu, Shedrach Ajaero, Dejo Fayemi and Emmanuel Omiunu, among others.
Achebe and Okpala won the Challenge Cup in 1965 with ECN. That was the team of Cyril Okosieme, Paul Hamilton, Fred Achebe, Rigogo Inua, Lawrence Omeokachie, Ernest Ufele, Sebastine Brodericks, Austin Oduah and Mohammed Lawal. In 1967, war broke out and they joined the Biafran Army.
At the end of the war, Okpala and Achebe became pioneer members of Enugu Rangers.They won the Amachree Cup together in 1971 and represented Nigeria in the African Cup for Champion Clubs ( today's CAF Champions League).
Achebe was capped 48 times by Nigeria between 1958 and 1973, scoring three goals all through that career. The man who was denied access to the Nnamdi Azikiwe Stadium had a stadium named after him in Fegge, Onitsha when he died in 2007.
Okpala left St. Joseph's Catholic School, Onitsha in 1957. He was captain of Notre Dame soccer team before he passed out in 1963. While there, he also played for the Nigerian Academicals between 1961 and 1963.
Some of his contemporaries included Johnny Egbuonu, Mike Nwokedi, Edward Akika, Umpire Kanu and Lateef Gomez. Egbuonu and Nwokedi played for the Green Eagles' right from Zixton Grammar School, Ozubulu in 1961.
Bukana's Eagles debut came in 1964 in Santa Isabel (Malabo), Equatorial Guinea. The Nigerians graced that country's anniversary and gave their hosts a thorough drubbing. That was also the year he joined the Lagos Electricians.
Okpala joined ECN from Onitsha Red Devils and besides Achebe, two other stars with Onitsha background welcomed him. Hamilton and Brodericks spoke perfect Igbo having played for Ikpeazu Redoubtables, owned by Justice Chuba Ikpeazu.
In 1973, East Central State soccer team, Spartans won gold at the First National Sports Festival in Lagos. Okpala was one of the gold medalists. He left Nigeria after that for a coaching course in Toronto, Canada.
As a coach, Bukana did well. From Anambra State Academicals, he handled Vasco Da Gama, PRODA, Enugu Black Rocks, CCB and led the YSFON team to Denmark and Scotland. One prominent name that came out of CCB is Jay Jay Okocha.
As a left full back, Okpala was seen as a hard nut to crack. He agreed but insisted that it was tactical. " I went for the ball always, not the leg and I can't remember bagging a red card in my career."
He named his worst game : " I can't forget the 2-1 loss to WNDC Shooting Stars, in the grand finale of the Challenge Cup in 1971. That was a match we were supposed to win." Captain Godwin Achebe's penalty was saved by keeper Amusa Adisa.
Okpala got married to Nnenna who worked at the Nnamdi Azikiwe Stadium. They produced three children, Adam, Chikezie, boys and Chioma, a girl. They are all grown up now and soccer has not departed from the family.
In 2002, Chioma found love in Ikem Udeh, an ex- player of Udoji United and Super Eagles. Both live in  Birmingham, Alabama in the United States. Udeh is also known as 'Potential Ayaya.
Their son, Michael Jay Chijioke Udeh, is one of the stars of the University of South Carolina, Aiken soccer squad. Dad also played for Alabama A and M University. The Udehs are close to Rangers Grand Patron, Chief Benson Ejindu who lives in Charlotte, North Carolina.
Luke ' Jazz Bukana' Okpala joined his ancestors on September 19, 2014. He was born on  August 10, 1941.