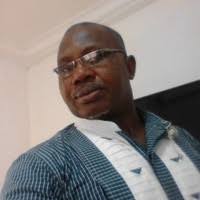 Growing up,Godwin Ogbueze lacked the frame of Big Boys that many underrated him. Beneath the facade was a a strong mind who fought the Civil War as a Commando, captained East Central State Academicals to win the Manuwa/Adebajo Cup and led Nigeria against Ghana Academicals.
Ogbueze chose Pele as nickname and that was his trademark all through his soccer journey in Nigeria before relocating to the United States in 1975. He made a mark there and his son, Braxton has also represented Nigeria.
Ogbueze and I had planned to chat from his Yankee base last year but he lost a younger brother, Joseph in California in April 2020 and we agreed to wait for a convenient time. That free time came but I missed his call. Then we rescheduled and got talking.
He said : " I was born in Lagos. My dad served as a policeman and I grew up in the barracks. There was no money for me to buy ball so I used orange. In those years children had idols like Stanley Mathews, Pele and Garrincha. I chose Pele as nickname."
Service took the family to Jos and young Godwin did not depart from soccer. He found a friend in Andrew Atuegbu whose elder brothers, Mathew and Nicholas were known names in the Tin City.
But the player who influenced him most was Sam Garba Okoye who captained Nigerian Academicals to beat Ghana home and away for the first time, in 1965. Garba, like Ogbueze hailed from the Enugu area of the Eastern Region.
" I grew up with Andy Atuegbu, we were all playing. Garba Okoye was like a mentor. I was watching him all the time train at the stadium across the street. He also had Peter Anieke with him always. These were stars we all looked up to," Ogbueze recalled.
Then everything went awry. Pogrom came in 1966, followed by Civil War. Okoye and Anieke ran to Lagos and continued to play for Nigeria with another friend, Tony Igwe. Ogbueze and the Atuegbu Brothers found their way back home and became Biafrans.
Pele had abandoned studies at St. Patrick's Primary School, Jos. He found another St. Patrick's, at Ogbete Enugu to continue with studies. It did not last as Enugu fell in the last quarter of 1967. That was how a Primary School pupil found his way to the war front as a full combatant.
"Not many know this part of me. I trained at Bishop Shannahan College ( BSC) Orlu. I fought in Ogoja as part of the Commando Strike Force under Major Emeka Ananaba.(Col. Ananaba is immediate past Deputy Governor, Abia State). My immediate boss was Captain Nwosu, " Ogbueze disclosed.
With this combat experience over 50 years ago, Ogbueze does not want to hear anyone talk about war. He also does not believe in the balkanization of Nigeria. The way out, the veteran believes is good leadership.
He said : " I count myself lucky to have survived the war. Given a choice I would prefer the worst peace to the best war. Those beating drums of war, we don't need it. War is a very complex issue. I want a peaceful Nigeria.
" I am looking at what ways I can bring a stable life to our people. I really do want to help build our country. Our leaders need to get things done. We have the best natural resources. We can process, share the resources so that everyone will enjoy. How much money are you going to have before you expire. There's no need to rely solely on oil because you cannot drink it."
At the end of the war, Ogbueze tried to go to college. He passed the Common Entrance Examination with eyes on St. Theresa's College, Nsukka. There was no money to pursue that dream. That was where Pele displayed raw talent.
" After the interview, they wanted soccer players. Coach J.B.C. Okonkwo focused on bigger boys. He dismissed me as 'too small'. They chose 10 and one person was still needed to make a full team. I was drafted just as the coach was walking away unimpressed with what was going on in the field.
" Then I began to move. I started dribbling everyone until I scored three goals. Coach Okonkwo walked back. The principal, Mr. Enemuo told him what I just did. They were impressed. I became the pivot of the newcomers. We beat the senior students from Form Two to Four and I was made the captain."
According to Ogbueze, "My skills were not enough to help me. I made it clear that I had no money to pay tuition. They worked out something. I figured it was scholarship."
Ogbueze captained St. Theresa's to the East Central State Schools grand finale. After leading 1-0 in the first half, the Nsukka team fell 3-1 to Holy Ghost College, Owerri. Both sides had superstars. From Owerri came Patrick Ekeji, Obed Ariri and Johnny Nwadioha. Nsukka offered Alex 'Tempest' Nwosu, Damian 'Arabi Chocho' Odo and Kenneth 'Kendo' Ilodigwe.
All of them were joined by Dominic Ezeani, Christian Chukwu, Anamefula Umelo and others to form the East Central State Academicals that won the Manuwa/ Adebajo Cup in 1981. Ogbueze was chosen as captain by Coach Paulinus Nzerem. That is a sweet story.
" You can't believe it. I was wearing soccer boots for the first time in my life. Many of us did not have boots. We just came out of the war. We used coal tar to write numbers on our jerseys, just one pair that we wore all through the competition.
" We were the laughing stock but we relied on our our Civil War experience never to be intimidated. We played for all Igbo who were recovering from the war. The goal was to make them rise again and never to lose hope," the skipper said.
Then came one moment which remains memorable. In the game against Lagos State, Ogbueze showed class and made the ball obey him as a carrier. Lagos had known. names like Tunde Martins, Emilio John, Martin's Eyo and goalie, Marcellus Obinatu.
" It was like Game of the Century. Tunde Martin's who captained Lagos was talking big. I scored three goals, we beat Lagos 3-0. After three goals, I dribbled as many of them as I could. Then I kept the ball on the ground and sat on it while play was on. My message was for the Igbo to hold their heads high", he narrated excitedly.
After that triumph, Ogbueze was called to camp with other School boys and made captain of Nigerian Academicals that tackled their Ghanaian counterparts. He also walked into the Enugu Rangers first team.
" I was a triple champion before I left Nigeria in 1975. I won Adebajo/Manuwa Cup. I won gold at the 1973 First National Sports Festival with East Central State Spartans and the Challenge Cup in 1974 with Rangers ( He forgot to add that he also won National League as the Flying Antelopes became the first Nigerian double champions)."
It was during one of those games that the coach of Clemson University who flew in from the US spotted Ogbueze and offered him scholarship.
READ ALSO: Abia Govt. Reviews Curfew In Aba, Umuahia, Other Cities
" The Clemson coach came and asked me to go to the US embassy for my Visa. Some of my colleagues, Damian Ogunsuyi, Ben Popoola, Odo and Nwosu also got Visas. For two consecutive seasons, I was Highest Goal Scorer. I made the All America team."
Ogbueze played for Clemson from 1975 to 1979, scoring 46 goals. Seventeen of those goals were scored in his first year. That earned him invitation to play with his idol, Pele, in New York but the coach flunked it.
Ogbueze is from a Royal family in Mgbowo, Enugu State. Born to Clement and Maria Ogbueze, he also lost another brother, Sylvester. Other siblings, Theresa, Lizzy and Martin are doing alright.
His children, Godwin, Ana, Tece, Klem are in the US. Braxton chose basketball and has risen to play for the Nigerian national team, D' Tigers.
The proud dad said: " I was very proud of Braxton when he debuted for Nigeria. He made the name Ogbueze resonate again."